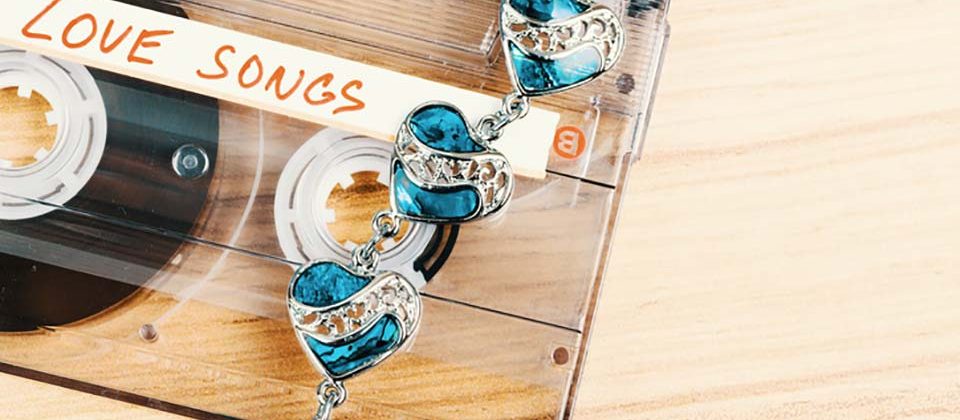 15 of the best songs about love
There are songs about love to reflect every stage of a relationship, from the first flush of romance to the intensity of something long-term. Here are 15 of the best
1. I Will Always Love You – Whitney Houston
Sometimes love just isn't enough and we're forced to walk away from a relationship that isn't working anymore. I Will Always Love You is the song that understands that feeling better than any other. It's sad and emotionally charged but Whitney's strength shines through. The tone is bittersweet but full of love: 'So goodbye, please don't cry; we both know I'm not what you need.'
2. I Want To Hold Your Hand – The Beatles
There are few songs about love that are as uplifting and innocent as The Beatles' I Want To Hold Your Hand. The single was the band's first US number one and sums up the feeling of just meeting someone that you want to be in a relationship with. Holding hands is intimate yet the kind of casual gesture that's favoured by solid couples, which is why this repeated lyric works so well.
3. Crazy Little Thing Called Love – Queen
Written in the style of Elvis Presley, Queen's Crazy Little Thing Called Love celebrates love and all its complications. Freddie Mercury acknowledges that relationships aren't all smooth sailing and love can sometimes be as stressful as it is exhilarating. We can all relate to the rush of uncontrollable feelings that overtake us when we first fall in love. Who hasn't wished they could 'be cool, relax, get hip' and think rationally when your heart starts ruling your head?
4. God Only Knows – The Beach Boys
Songs about love don't usually begin with lyrics like, 'I may not always love you' but God Only Knows isn't a typical love song. The Beach Boys track transformed public perception of what a love song could be when it was released in 1966. Today, it remains the perfect ode to all-consuming love. While we wouldn't advise losing yourself in a relationship, we can't argue with the sweet sentiment of this song. God only knows what we'd do without it in our collection.
5. Your Song – Elton John
When you can't find the words to express your feelings, Your Song is the solution. The song's narrator has the kind of eloquence we can only dream of, but hints of self-deprecation and corrected sentences make the delivery honest. Lyrics like 'I know it's not much, but it's the best I can do' are effortlessly endearing, while the final refrain – 'how wonderful life is while you're in the world' – is surely the greatest compliment you could be paid.
6. Love Story – Taylor Swift
Taylor Swift may be known for her break-up songs but her songs about love are just as lyrically impressive. Love Story reinvents Romeo and Juliet for the 21st century, although thankfully, Swift's song builds to a happy ending. If you've ever been in a relationship that your friends and family didn't approve of then you'll relate to this song. And with it's country roots and simple melody, it's a tune that'll be stuck in your head for days on end.
7. How Deep Is Your Love – Bee Gees
How Deep Is Your Love is an anthem for anyone who isn't sure where they stand in a relationship. The Bee Gees lyrics perfectly capture the agony of being completely in love with someone but aware that they might not feel the same way or is being influenced by people outside of the couple. If you've ever dated someone who you feel knows 'the door to my very soul' but always has one foot out the door then this is the love song for you.
8. Crazy in Love – Beyoncé
Who hasn't felt a little crazy in love? Beyoncé's first solo single describes a romantic obsession that's making her act out of character – but she doesn't care! It's a high energy song that mirrors the racing thoughts of the song's protagonist. Lyrics like 'You got me sprung and I don't care who sees' and 'It's the way that you know what I thought I knew' sum up that feeling of falling in love and throwing caution to the wind.
9. Make You Feel My Love – Adele
No-one write lyrics like Bob Dylan. That's why Make You Feel My Love has been covered by so many artists over the years. Adele's version was released in 2008 and her soulful voice conveys the lyrics' emotion perfectly. Stripped down with just a piano providing backing, Adele's vocals shine. It's a song for anyone who has an unrequited love and wants the chance to prove why you should be together. 'I could make you happy, make your dreams come true, there's nothing that I wouldn't do.'
10. The Power of Love – Frankie Goes to Hollywood
The Power of Love champions the importance of love in everyone's lives. A song guaranteed to help you believe in love again, even after heartbreak, this Frankie Goes to Hollywood single portrays love as a restorative force and a goal to pursue. There are also quite a few lyrics that echo traditional marriage vows. 'When the chips are down, I'll be around, with my undying death defying love for you' an interpretation of for better or worse, in richer and in poorer etc.
11. Wonderful Tonight – Eric Clapton
Eric Clapton wrote Wonderful Tonight for his then-girlfriend Pattie Boyd while waiting for her to get ready for a party they were attending together. Of all the songs about love on this list, Wonderful Tonight is the one that best reflects the good times of a happy, long-lasting relationship. Its lyrics focus on small moments of intimacy shared by established couples; 'So I give her the car keys and she helps me to bed' is a great example.
12. Love Song – Sara Bareilles
Shying away from commitment? Sara Bareilles' Love Song is the track for you. Despite being written about her frustrations with her record label, Love Song is an anthem for anyone who isn't sure about a new relationship. The lyrics speak to the importance of taking your time and not feeling pressured to do or so anything you're not sure about, even if the other person is. 'You made room for me but it's too soon to see if I'm happy in your hands' encapsulates this sentiment. After all, saying something that you don't really mean always leads to heartbreak and distrust. 'I learned the hard way that they all say things you want to hear.'
13. When You Say Nothing At All – Ronan Keating
Being comfortable together in silence is a trait prized by long-term couples and when it comes to songs about love, When You Say Nothing At All says it best. The lyrics focus on body language and subtle gestures that can be especially telling. From 'the smile on your face, let's me know that you need me' to 'the touch of your hand says you'll catch me wherever I fall', this is a song sure to appeal to romantic types.
14. At Last – Etta James
If you've been single for a while, you'll understand the feeling of relief that echoes out from Etta James' classic love song, At Last. James' passionate vocals and the track's sweeping orchestration have helped this 1960 song stand the test if time. Anyone who has dreamed of finding love before falling for someone will relate to lyrics like, 'my lonely days are over and life is like a song' or 'you smiled and then the spell was cast.'
15. Fix You – Coldplay
Most songs about love celebrate the good times, but Coldplay's Fix You focuses on being there for your loved ones in their darkest moments. Written by Chris Martin for now-ex-wife Gwyneth Paltrow after the loss of her father, Fix You is a heartfelt song that builds from simple melancholic piano notes to reach an emotive crescendo. It's sure to pluck the heartstrings of anyone who has felt loss. Key lyrics include; 'when you're too in love to let it go' and 'when you love someone bit it goes to waste, could it be worse?'