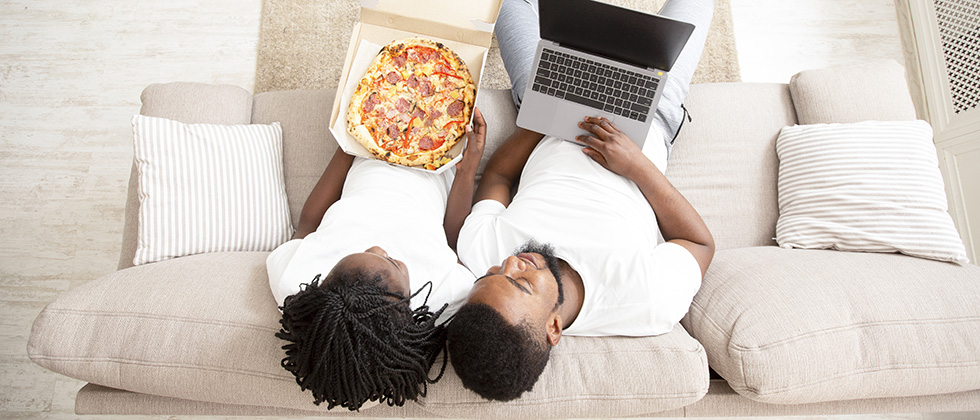 Love in lockdown – how it turbo-charged our relationships
A key report by eharmony and Relate reveals that two months living together as couple in lockdown, is the equivalent of two years during normal life
It was inevitable that a global pandemic would change how we live. But Covid 19 has not put people off finding love – in fact, it's created an infectious yearning for romantic connection.
Back in April, subscriptions to eharmony increased by over 50% during the first week of lockdown and we've been maintaining steady levels ever since. Meanwhile communication on our platform similarly rose, helped in part by our new Video Date feature.
Meanwhile, Covid19 has helped create a wave of so-called turbo relationships, with newly-acquainted couples moving in together faster than normal and reaching key milestones, like meeting the parents (by Zoom, presumably), at unforeseen speed. This insight comes from an in-depth analysis of love during lockdown created by eharmony and Relate, the counselling charity.
Over a third of couples (36%) agree that two months in isolation feels equivalent to two years of commitment. This acceleration has also led to more sex (23%), better communication (28%) and the opportunity to discover new, shared passions (18%).
Navigating lockdown as a pair has also prompted almost two-thirds (63%) to say their relationship feels stronger, and over half (58%) now know they want to be with their partner forever.
Inevitably, there have also been challenges. The pressure of living together 24/7, sharing work space and juggling childcare has taken its toll.
Almost one in five couples (17%) say lockdown has made them realise their relationship is over. Common areas of conflict for couples include children (11%), finances (10%) and mismatched opinions on lockdown rules (9%); with some affairs uncovered.
So, what's been happing for singles? It appears loneliness has been the biggest challenge, with four in 10 feeling this way. Over a third (35%) of singles also agree that isolation has had a negative impact on their overall mental health.
But a plucky one in three singles (29%) say lockdown has made them realise they are happier alone.
Nevertheless, some individuals have clearly battled with lockdown-enforced celibacy. Seven percent (7%) admit breaking lockdown rules to meet an ex for sex. And, 13% of singles have plans for a 'hook up' as soon as the rules are relaxed – with men much more focused on this goal than women (20% vs. 5%).
Relate Counsellor, Peter Saddington, said: "In our now virtual counselling sessions we're hearing how increased pressure around finances and the stress of juggling work and home schooling is taking its toll on some relationships. Disagreements about lockdown rules are common across the board no matter how long a couple has been together, and loneliness has been a key issue for single people.
"If, like 7% of respondents, you've uncovered an affair during lockdown then that's a lot to deal with, particularly if you're still living with your partner.
"We'd urge anyone experiencing relationship issues during lockdown to consider webcam or telephone counselling. You can attend on your own or as a couple and many people say they're finding it easier to open up in the comfort of their own homes."