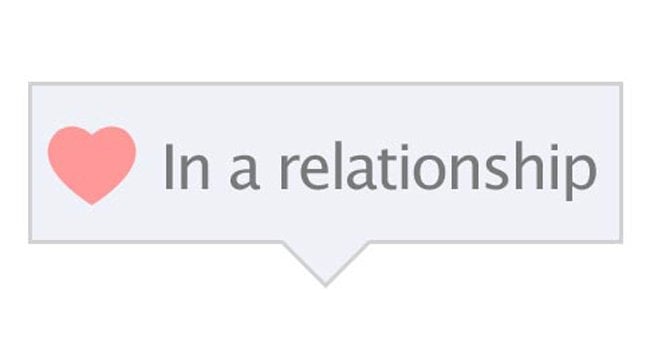 When's the right time to make it 'Facebook official'?
In the modern world of social media an added dimension has come into romantic relationships! So when is okay to announce your new love to the world by changing your relationship status on Facebook?
According to some people, until an event is announced on Facebook it's not 'official'. This applies to everything, including new relationships. Whether or not you agree with that, social media now governs much of our lives and (as with any social convention) there are certain codes of conduct that you should follow – especially when it comes to announcing a new relationship.
Something to talk about
This isn't a conversation you should have on a first date. It's likely to be part of a general conversation around becoming exclusive, usually when you've been dating for a few weeks or months. It isn't advisable to change your status before you've talked to your partner about it, especially if you're going to name them as the person you're in a relationship with.
As with all stages in a budding romance, it's important that you're sensitive to the views and feelings of the other person. It may be that you're moving ahead at different speeds and, while you may be ready to make a public announcement, they might be a bit reluctant. If that's the case, try not to take it personally. Be patient and remember that taking the time to lay solid foundations in your relationship will mean that once that Facebook status does go up, it's more likely to stay there.
When's the right time?
The general rule of thumb seems to be that the younger a couple are, the sooner they'll change their Facebook status, often within the first month of dating. This is probably because their use of social media is higher.
Adults who are looking for a serious, lasting relationship will often wait a few months. According to the Huffington Post, Tiger Woods announced on Facebook that he was dating Lindsay Vonn after about three months. That seems like a sensible amount of time – any sooner and there's a chance that you might have to change it back again if things don't work out, any later and friends and family might think you've been keeping something from them. Or worse – your partner could think that you're embarrassed to be with them!
How to change your Facebook relationship status
On your homepage, go to update info and find relationship under the about tab. Choose edit to select single, in a relationship, engaged, married, in a civil partnership, in an open relationship, it's complicated, separated, divorced or widowed.
Don't forget:
Only the last three options will not automatically show in your news feed.
All options, except for the last three, ask for the name of the person you are involved with.
If that person has a Facebook profile, then their picture will come up and they will be informed of your change of status
Keeping it private
Unless you change your privacy settings, your change of status will appear on your timeline and in everyone else's newsfeed too. It's always advisable to change your privacy settings so you can choose what you share publicly. You can create custom lists so that you only share important information with the people closest to you. Remember to click 'save' at the bottom to keep the changes otherwise Facebook will revert back to the default settings.
Life events
There's a tab on your homepage –  above the status box – that invites you to add a 'life event' to your timeline. These life events are split into categories, and under the 'family and relationships' one, you have a choice of first met, new relationship, engagement, marriage, end of relationship, or loss of loved one. Life events are more in-depth than status updates. They invite you to add a story to the event and post photos. They mark the day the life event took place and could remind you of the anniversary each year. As a result, this is a much more official way of introducing a new partner to your friends and family, but it's probably a good idea to only do so after you've been together for some time and the important people in your life are already aware of the relationship.
How it works
Your search for a great relationship has never been easier with groundbreaking overhaul of the eharmony you know and trust.