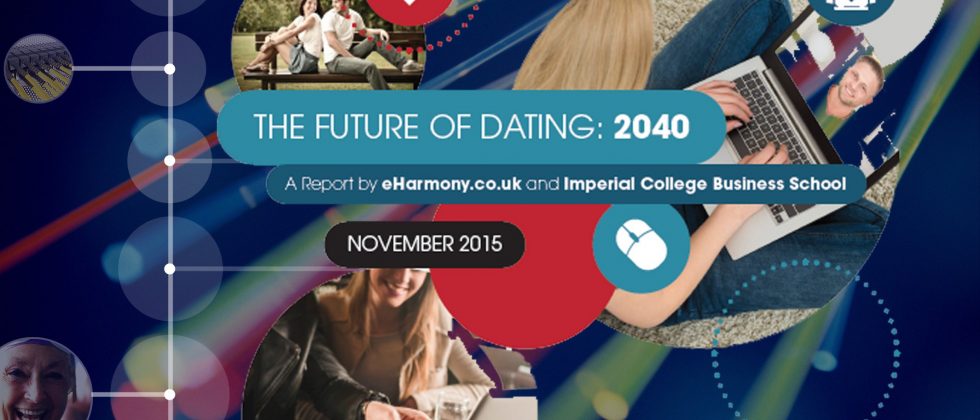 Experts Predict What Dating Will be Like by 2040
Some of the future's brightest minds from Imperial College Business School and eHarmony.co.uk have explored what dating will be like by 2040 in a report.
The Future of Dating report is based on more than 100 years of trend data and interviews with experts in the field of anthropology, sociology, technology and biomedicine to predict what online dating and relationships will be like by 2040. The study was commissioned by relationship site eHarmony.co.uk and compiled by MSc Management students at Imperial College Business School.
Full-sensory virtual dating
The report predicts that in just 25 years the rate at which data can be shared will be so fast that all five human senses could be digitally simulated at once to create a full-sensory virtual reality.
A full-sensory virtual date would be exactly like a real one – you could hold someone's hand and even smell their fragrance – but all from the comfort of your own home. This would mean you could fully 'meet' someone online, before you actually meet him or her in the real world. It would open up a global dating pool of people to meet and redefine what we consider to be a long distance relationship. And with advances in wearable technology you could experience this virtual reality wherever you wanted with people from anywhere in the world. 
Biotechnology
Biologically, humans are programmed to find people who are a good genetic match for them the most attractive in order to produce the healthiest offspring. In 2003 it cost $80 million to sequence DNA from a cell. In 2015 it costs only £10,000. DNA analysis – with the potential to unlock the innate laws of attraction – could cost as little as $1000 by 2040. Increased affordability will allow more extensive research into this field, in turn giving us a clearer insight into how our own genetic make-up plays a role in physical and emotional attraction.
Behaviour-based Matching
The growing 'hyper-connectivity' between our devices – known as the 'Internet of Things' – together with the increasing popularity of wearable technology will transform how people meet by 2040. Instead of filling out a questionnaire, romantic 'matching' could become even more accurate through online behavioural tracking and interpreting live reactions such as heart rate, facial recognition, and even neural signals in your brain.
By 2040, our genetic make-up, along with chemical & electrical signal analysis will be used to understand our online dating preferences. Forget questionnaires where you have to do all of the work, your live reactions and online history will be analysed to feed computer algorithms designed to find you a compatible mate.
Artificial Intelligence
Technology will be able to not only help decide who you should date, but people will start relying on smart technology such as big data and machine learning to influence long-term life decisions. These might be important questions like: when to get married, how many children to have, or even day-to-day decisions.
Imagine being able to call on the world's knowledge at any given moment? Erase awkward silences on a first date forever with instant access to unlimited conversation starters and live computer-generated dating advice. By 2040, the speed of data analysis will allow for this kind of real-time feedback helping technology to play an even greater role in our love life and decision-making. For couples, this data would help improve their relationship by identifying issues and resolutions, and could even calculate the optimum time for life milestones, such as when, or if, to get married or have children.
Seven out of ten relationships are predicted to start online by 2040. But what else will have changed? Tell us what you think the #FutureOfDating looks like by tweeting us @eHarmonyUK with #FutureOfDating.