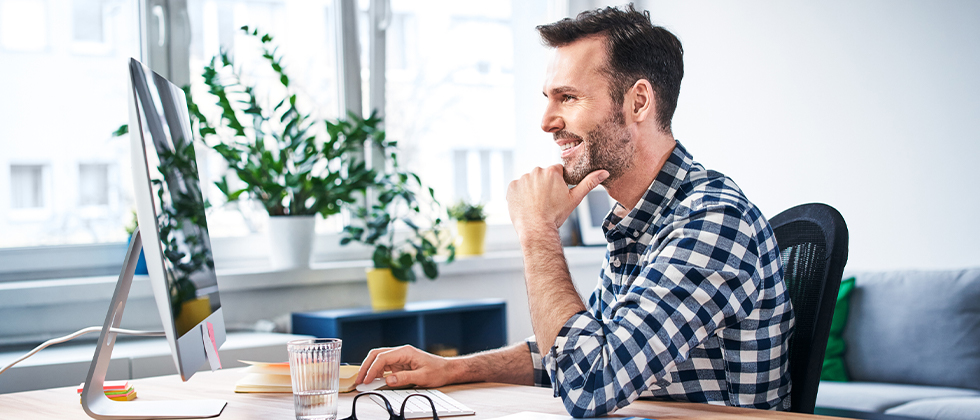 Online dating advice for complete beginners
Internet dating – it's scary, and all the sites are populated by middle aged weirdos who still live with their parents and collect toe-nail clippings, right? Wrong. Here's some internet dating advice for you beginners out there.
Online dating doesn't have to be scary. It's one of the fastest growing ways to find love, and in the UK alone, 5 million people have tried it. If you're tempted, check out our expert online dating advice
Singles of every age, from every walk of life are trying internet dating, and if you're reading this maybe you're thinking it's time for you to look online for love too. But, once you've decided which site is right for you –if you're here perhaps you're planning on signing up for eharmony's service – you might be at a loss as what to do next. In that case, you've come to the right place. Here's our top online dating advice for beginners.
Tip 1: Make time for internet dating
First, the bad news: internet dating is not a quick fix. It's highly unlikely (though we admit not completely impossible) that you'll meet the man or woman of your dreams on Day 1. You'll need time – time to fill out your profile, to read member profiles, and to communicate with other members. But, the more you put in, the more you'll get out of the process.
Tip 2: Enlist a friend
Share your internet dating adventures with a friend, and if they're single get them to join your search for love online. After all, it's great to have someone to share the good (and bad!) bits with. Think online dating is embarrassing? Remember you're joining a pretty big club of over 5 million people – you're not alone! It's just another way to meet new people – nothing to be embarrassed about.
Tip 3: Sell yourself in your profile
Your profile is key. We recommend you spend at least a couple of hours filling this out – trust us, it'll save you a lot more time in the long run. By making your profile a true representation of you, you'll filter out more time-wasters right from the start. Make it original too; we cannot tell you the number of profiles that say something like 'I love keeping active'. Great, but doing what? Be specific to give your profile some colour. If you're stuck for something original to say, ask a friend for their view of you – you'll find it eye-opening!
Tip 4: Post a photo gallery
First off, photos are important. Most people want to see who they're talking to, before they agree to meet in the flesh – it's just human nature. Secondly, don't just post one photo, post a selection that shows your personality. Anything from you with your family to enjoying your favourite pastime will do. If you're nervous of posting a photo for privacy reasons, remember that eHarmony only shows your profile to people we match you with – no-one can search for your profile. And of course, if you're still anxious, you can choose not to post a photo, it's totally up to you.
Tip 5: Be open minded
If you're coming to internet dating with a shopping list for your ideal man/woman you've got the wrong end of the stick. Yes, internet dating gives you access to thousands of people you'd never meet in everyday life, and yes you can usually filter them down based on your own personal preferences. But, if this is about a new start for you, then it's a great opportunity for you to think about what's really important in a partner. For example, f you've always gone for powerful women or men in the past, ask yourself whether you really want to repeat that pattern.
Tip 6: Stay safe
Dating online is no more or less safe than the outside world. That said, don't allow yourself to be lulled into a false sense of security just because you're sat behind a computer screen – think very carefully before giving someone your personal details such as your phone number. Here's our guide to staying safe online
Tip 7: Have the courage to move offline
Internet dating allows you to access a pool of people you'd never normally have the chance to meet. And in the case of eHarmony, matches you up with other compatible members, to ensure that when you do meet you'll have a great basis for a relationship. But with internet dating it's important to think beyond online. Once you've established a rapport with someone, suggest meeting offline sooner rather than later. Too many people make the mistake of talking with a match online for months, only to see the communication fizzle out. After all, meeting in person is what you're both there for!
Tip 8: Remember it's part of a bigger picture
As we said right at the start, internet dating is no quick fix. It is, in its simplest form, a great way to get connected with people you otherwise wouldn't meet. That said, it shouldn't be a substitute for meeting new people in real life. If you're too nervous or lacking in self-esteem to meet people in the big wide world, meeting people online will only get you so far. After all, that's what you're here for isn't it?
Tip 9: Enjoy!
If you're not having some fun, you're doing it wrong. True, internet dating requires a thick skin, just like real life. You might be surprised how you react when someone doesn't reply to your message, or does a disappearing act after you've spent time getting to know each other. But, just as you would in real life, pick yourself up, dust yourself off and push on. Good luck!
How it works
Your search for a great relationship has never been easier with groundbreaking overhaul of the eharmony you know and trust.