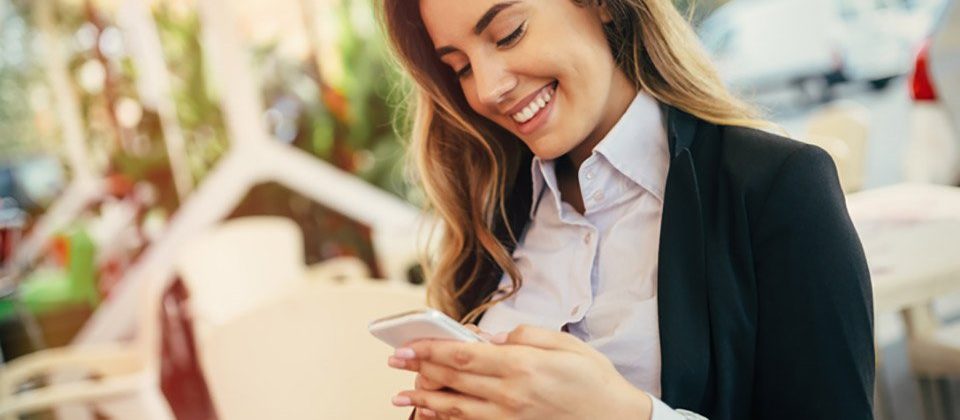 How to keep the conversation going after you match
Flirting over the initial few messages is easy, but how do you keep the momentum going before you meet? Dating expert Rebecca Twomey, shares her top tips for keeping the conversation going after you match
You know the drill; you match, message constantly, and then the magic vanishes as quickly as it began – and you didn't even get to have a date. Once the first flurry of flirting happens, it's difficult to keep up the pace if you don't have a date booked in. So, now it's time to break with habit and uncover new ways to keep the conversation going ahead of your first date.
The art of not saying much
Just because the Internet and smart phones allow us to be in contact all the time, it doesn't mean you have to be. In fact, it can hinder your chances if you communicate too frequently.
It's a delicate balance; you need to ensure the chemistry doesn't fade away by employing the right amount of mystery, while also making sure you don't seem disinterested. It's also important not to tell them everything, or talk throughout the day, if you do, what will you have to talk about when you do eventually meet?
Find a way to pair just enough playfulness with some practical chats and save the getting to know each other part for when you're in person.
Choosing how you communicate
Almost everyone today is in constant contact via WhatsApp or text, but that doesn't mean you have to be. Mix up your communication methods; try speaking over the phone, having a video call, and sharing pictures or voice notes – it'll help keep things interesting.
This should also help avoid getting into a WhatsApp relationship where you effective have a new phone pen pal that you never get to meet in real life. Unless of course, that's what you're looking for!
Making your messages count
It's time to get creative – don't be generic and mindlessly type, 'Hey, how was your day?' You need to send a hook message, something that will inspire a thoughtful reply. Try to stand out from anyone else that could be messaging them too.
Use emojis to your advantage. Why not send a row of cheese emojis and say you wanted to try out some cheesy one liners on them before sending a compliment or joke? You could start a game of emoji charades; look online for suggestions and tell them they have until 7pm to make a final guess. Or use emojis as clues to find out things about each other: your jobs, hobbies, or favourite foods, for example.
If you don't feel confident being that creative, you could try asking a series of random, light-hearted questions. What four things are in your fridge today? If you had £2 to spend at the newsagents, what would you buy? When was the last time you wore a top hat? These are sure to kick-start funny conversations.
Try to think of different ways to start a conversation. You could send a picture of something that made you laugh, a song from Spotify that you love, or anything else that shows your thinking of them but not expecting an instant reply.
And when you do start a new conversation, don't ask things that can be answered briefly. Instead of asking, 'Was work okay today?' try, 'What made you laugh out loud today?' Don't make them feel under pressure to reply. Try not to chase a response if you don't get one quickly. Instead, send a single-line text that doesn't require a reply such as, 'Just about to go to sleep, wanted to say goodnight' or, 'Just saw a car drive past that you'd love. Hope your day is going well!'
Taking it into real life
Sometimes it's impossible not to leave it more than two weeks before you meet up but try not to let it get any longer than this. When it feels like there's nothing else to talk about and it's a struggle to keep the conversation going then you know it's time to meet in person. Be brave and ask them out!
Rebecca Twomey is Closer magazine's dating columnist, and has 15 years experience as a journalist writing about dating and relationships for Cosmopolitan, The Daily Mail, FHM, Marie Claire and Playboy. She's also written a book for millennials helping them overcome the obstacles of modern dating, from sexting to swiping. Follow her on Instagram @rebeccatwomey_