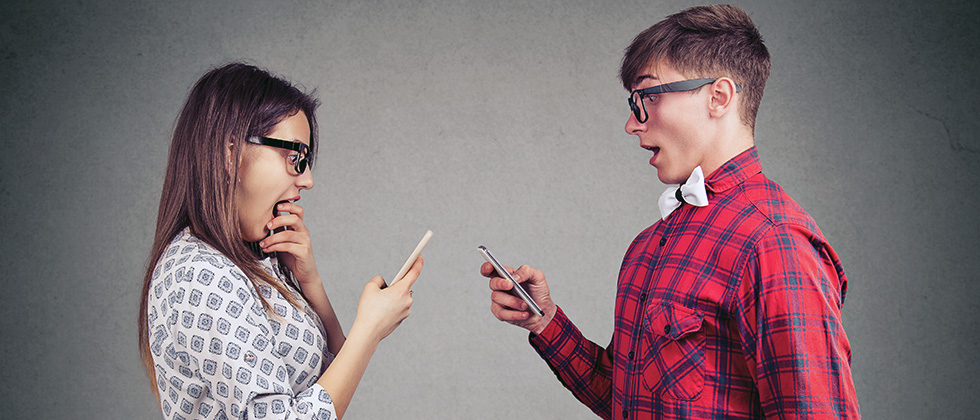 Get the Right Kind of Attention with These Dating Profile Examples
Looking to start a new dating profile but not sure where to start? You may have even seen a few good dating profile examples but now you're unsure of how to apply them to your life and personality. You're not alone. So many people stare at their dating profile bio wondering how to make it stand out. Well, eharmony's got you. We've been an industry leader for over 20 years and we've helped over 2 million people find love, so we know what makes a good dating profile. Let's take a look at some good dating profile examples and important do's and don'ts.
Creating a dating profile bio that pops
Some researchers say you only have 7 seconds to make a good impression. Make the most of those precious seconds with these tips on how to write a dating profile.
Be lighthearted
It's important not to take yourself too seriously on your profile. Adding a joke here or there and being a little self-deprecating, are good dating profile examples. You don't want to seem like you're trying to be a standup comic, but a bit of humor can make you seem more approachable and fun.
Don't make people read too much
Try to remember that people dating online go through a lot of these profiles so they don't want to spend 20 minutes reading each one. A profile filled with text may scare them off. So be succinct and focus on sharing the most important parts about you and your life.
Don't be vague
A common mistake people make on their profiles is being too broad. Avoid this in your dating profile, examples include things like 'I'm an adventurous person' or 'I love to read'. They have little meaning. What genres and novels engage you? What do you consider an adventure? Mountain climbing? Exploring new parts of your city? Hunting for hidden treasure in ancient booby-trapped temples? Turn these abstracts into solid facts about you.
Be the real you
There's an understandable temptation to puff up your life and even your appearance on your profile. This has created an atmosphere of distrust and cynicism in online dating. So while being dishonest may help earn you more dates in the short term, you will just permanently alienate your date when they discover the truth.
Have a good mix of photos
You'll want to have a couple of photos that show you in your best light. However, also include ones that show off the lifestyle and hobbies you mention in your dating profile bio. You want the person seeing your profile not just to be attracted to you but also to have a three-dimensional idea of your life and how they'd fit in it.
Good grammar is attractive
You can follow all the best dating profile examples but using poor grammar and spelling shows that you're either careless or not properly invested in the process, both of which can turn off potential partners who otherwise liked you. So always double the text for errors and then run it through a grammar checker, for good measure.
Keep it updated
We sometimes forget how quickly our lives can move. Our careers, hobbies, interests and most distressingly, appearances, change over time. Online dating can sometimes be a long-term process so remember to update your profile with more recent photographs and your current interests and lifestyle to find a partner suited to who you are now.
The best way to express yourself on your profile
On your eharmony profile, in the About Me section we use a series of answer prompts to get to the heart of you. Here are some dating bio examples to help answer those sections authentically but still engagingly.
Personal Quote (Introduce yourself to your matches)
Example: "I may not be a good dancer but it's never stopped me before from dancing anyway!"
Something like this shows that you can make fun of yourself, that you're open to experiences and that you aren't overly self-conscious but rather authentic.
A perfect day for me…
Example: "A rainy day spent curled up on a chair by a fire, reading or listening to some of my old albums."
There's no pressure to sound exciting or active if that's not what your perfect day is. This is short and it immediately tells the other person how you ideally spend leisure time. You also want to find someone who enjoys the same things as you.
The first thing people notice about me…
Example: "The crazy colors of my shoes and how even though I'm not that tall, that I have a big heart."
Short and to the point, this gives the person the impression that you have a grounded view of yourself that is authentic, kind and playful.
An odd habit of mine…
Example: "I have to read the whole menu twice before I can order, even though I already know what I want after two minutes."
It's easy to be funny with this question but rather use this space to share an authentic quirk about yourself to show you're self-aware, while still staying lighthearted about it.
My ideal first date…
Example: "Packing a picnic, driving to the beach and, after having a nice short hike to explore the area, enjoying a glass of wine or juice and some of my homemade tapas near sunset."
This speaks to specificity. Rather than saying a 'picnic on the beach', you're telling them how that date would go and even the food you enjoy. You're making it real for them.
5 examples of dating profile no-no's
There's also some habits and aspects that may scare people off your profile. Try to avoid these things on your profile.
Being overly negative – Complaining about your past relationships, the things you dislike or being cynical can make you seem like a negative person and not that much fun on a date.
Not filling out your profile properly – You may think it's a small thing but it just makes you seem uncommitted to the process. People who use online dating have made the effort to put themselves out there and they want to meet people who are equally invested.
Try to avoid too many selfies – One or two is alright but one of the most important factors in a dating profile photo is to seem natural and not overly contrived, which are qualities selfies intrinsically don't possess.
Being too picky in your dating profile bio – There's nothing wrong with having a type but try to keep an open mind about who you meet. It can also come across as arrogant and like you have unrealistic standards.
Giving our personal information – This one is just for your safety. Never give any personal details about yourself in your bio. For instance, your social channels, email, phone number or address. They may be used by scammers or by others to harass you.
Show off your best possible side with eharmony
Whether it's using the odd joke in your profile or learning how to properly curate your photos, these tips aren't designed to manipulate other people into dating you but rather show off who you really are, rather than who you're trying to be online. Aspects of you that you may find commonplace or insignificant can be a huge draw for others trying to find a partner. So why not start your dating journey fresh and show off a different side of you with a free eharmony account? Our massive pool of relationship-mind singles and our analytical, compatibility-based approach to matching can help this be the last online dating profile if you ever have to fill in. Register now.   
How it works
Your search for a great relationship has never been easier with groundbreaking overhaul of the eharmony you know and trust.