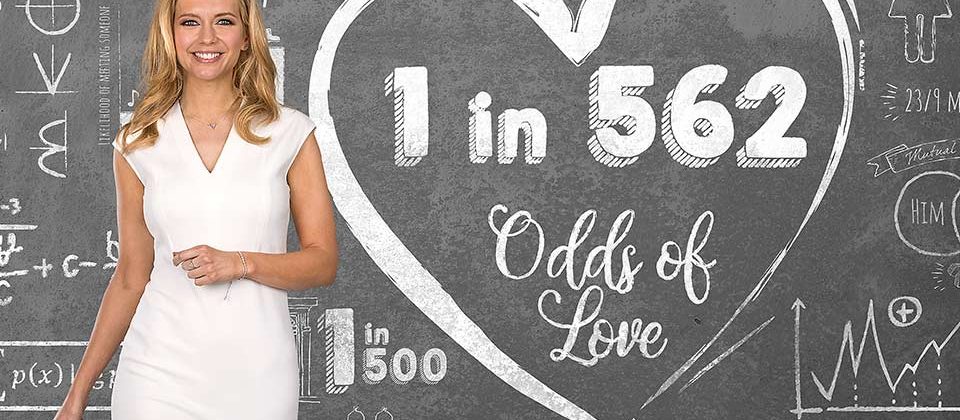 How to improve your odds of finding love online
Making small changes to your online dating profile and communication habits can make a big difference to your odds of finding love online. We've teamed up with mathematician Rachel Riley to unpick the statistics.
To be successful at online dating, it really is a numbers game. With a little help from the statisticians, I've discovered that there are a whole host of things that you can do to improve your odds of finding love online. This isn't about pretending to be someone you're not. Instead, I've teamed up with the experts at eharmony to find out which small changes you can make to your profile and communication habits can make a big difference. Here's what we discovered…
Creating the perfect profile
It's always hard to write about yourself but crafting a comprehensive dating profile can drastically improve your chances of finding love online. Statistically speaking, the ideal profile length is between 200-250 words. Profiles of this length on eharmony receive 50% more message than anyone else. Follow this formula and you'll be ahead of the curve. 47% of men and 36% of women are currently selling themselves short, using fewer than 25 words to describe themselves. And when it comes to listing your interests, it's good news for music buffs. Both genders see an uplift in communication when they share their love of music on their dating profiles.
Get the timing right
Choose the right time to send your opening message and you're far more likely to receive a positive response. eharmony research shows that the best time for women to send messages to men is between 8am and 9am. However, both genders have the least success when they send communications between 8.30 and 10.30pm.
And if you're a woman, don't be afraid to take your time. Women who wait four hours before responding to a man's opening message improve their response rate by 17%. In contrast, men see no statistical advantage in waiting so get those replies in quick!
Start with a smile
If you're wondering whether to send a 'smile' or show your interest by making a match your 'favourite', you'll be interested to know that smilers see the best results. But, once you've broken the ice, be sure to follow up with a message. And don't just say 'Hi'. Singles who send one or two-word openers receive 35% fewer replies than those who take the time to write longer messages. In fact, men who write messages of between 10-17 words increase their chances of receiving a response by 26%.
Don't be afraid to start with a serious topic. eharmony's most successful opening questions tend to be deep. The Guided Communication question most likely to elicit a response is: 'What is your opinion of traditional gender roles?' A similarly popular opener is: 'How do you feel when a husband makes less money than his wife?' In contrast, messages that imply a match is too good for a dating service tend to backfire. Cheesy chat up lines like: 'What's an attractive woman like you doing on a site like this?' rarely receive an answer.
Upload a selection of photos
When it comes to profile photos, the results show that more is more. For men, every additional photo you upload increases communication rates by 10%, while women see an 8% improvement per picture. Do keep an eye on picture quality though. Extreme close-ups have proven to be a turn off – users with these on their profile receive half as many communications as those who zoom out a little! Other red flags to keep in mind include photos with someone cut or blurred out (everyone will assume it's your ex) and, for men, wearing sunglasses – it sees a 20% fall in communication rates!
How it works
Your search for a great relationship has never been easier with groundbreaking overhaul of the eharmony you know and trust.