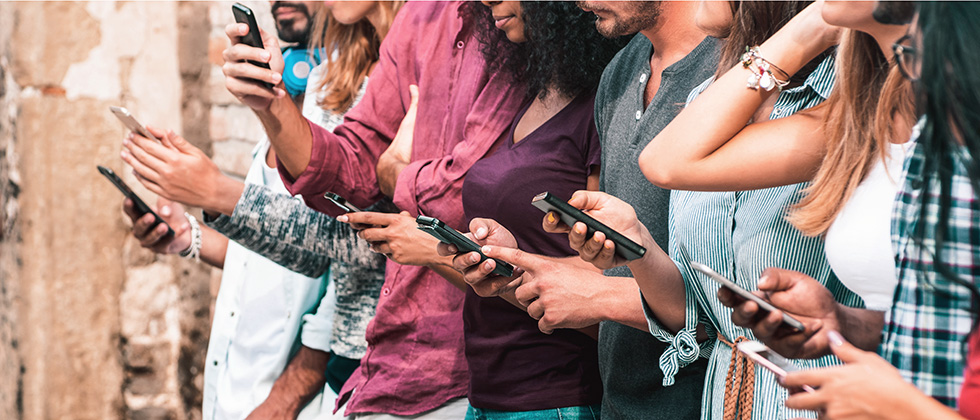 Online dating: The 10 biggest messaging sins
Last month we asked you to tell us your pet hates when it comes to messages you receive from your eHarmony matches. Here are the ten most annoying habits you talked about.
We asked you to tell us your pet hates when it comes to online dating messages and you didn't disappoint! Here are the 10 biggest messaging sins that you can commit
Starting to communicate with a match? Make sure that you read this before you type a single word. We asked our eHarmony Advice regulars to tell us what annoyed them about messages they received from their matches and , as expected, they had some strong opinions about what makes a good message – and what makes a very bad one!
We've analysed all the comments, and come up with this list of 10 messaging sins you absolutely shouldn't commit when communicating with a match.
Sin 1: Poor spelling and grammar
Of all the responses we had, over 40% said that bad spelling and grammar were a real turn off. One user even said that badly spelled emails would get an 'instant delete' from them.
However, it's worth remembering that some people have difficulty with spelling and grammar, whether they're dyslexic or it's just never been their strong point. If that's you, we suggest you compose your messages in a program like Microsoft Word, which should help you correct most of the errors you make.
Sin 2: Using text speak
Text speak also got a huge thumbs down from our users. Picture the scene; you know you've got a communication from a match you like, you excitedly open the message only to be greeted with, 'i thnk ur wkd, wd lv 2 meet u' (Translation: I think you're wicked, I would love to meet you.). It's not just that this seems lazy, but it also looks like you're not serious about meeting someone – one of the main reasons people join eHarmony.
Sin 3: Coming on too strong
Admittedly, this was one that mostly came from the female users – the tendency of some men to start their messages with something like 'Hey sexy, looking hot in your photos'. The general feeling was that it's fine to mention your match's attractiveness, but don't do it in an overly familiar way. Also, peppering messages with innuendo is a big no-no. The majority of women on eHarmony are looking for a serious partner, not someone who sounds like he's just stepped out of a Carry On film.
Sin 4: Replies that are too short/long
The length of replies was a surprisingly important factor. If your message resembles an essay, chances are your match won't be bothered to read it. On the other hand, if you send a one line email, you're pretty much saying 'I couldn't be bothered to put much effort into this'. Also, replying to an email with a much shorter or longer length response than your match's is another turn off.
Sin 5: Requests to chat on instant messenger
Eventually, you'll hopefully meet up with any match you really like, but only once you've got to know them a bit better. That's why asking a match if they'd like to use an instant messaging service like WhatsApp, before you've barely started exchanging emails, is very off putting. It also makes you sound like you just don't care or that you're juggling so many matches that you can't be bothered to email them all individually.
Sin 6: Not reading a match's profile
A classic error – not reading, or just skim reading, a match's profile before communicating with them. For example, mentioning that one of your favourite luxuries is a delicious steak dinner and asking if your match agrees, having ignored the fact that they've mentioned they're a vegetarian in their profile. It gives off the impression that all you've bothered to do is look at your match's photos.
Sin 7: Forgetting what you've already talked about
Someone who asks the same question two or more times when exchanging emails gets a big black mark, and we can see why. If you're not properly paying attention to what you're saying to your matches then you don't really deserve to get a response. There's a simple enough solution – read through past messages before you send a new one. Extra tip: do this before a first date too, to avoid the same pitfall.
Sin 8: Listing your wants and needs from a match
An interesting point. Starting out your email conversation with a list of demands about the kind of person you're looking for, or the kinds of things you like/dislike very much, can seem very prescriptive. One poster remarked that an email they recently received from a match that had this kind of 'I want' list should have been headed 'Dear Bank Manager'!
Sin 9: Lack of manners
Some users noted that, while their matches would start off enthusiastically, replying swiftly, that often tailed off. One lady even said that after a lengthy communication one of her matches stopped responding and then when she asked why simply closed her. While the close function is there to let matches know exactly where they stand, in a case like this you should always have the courtesy to explain what's happened. A simple 'I'm sorry, I've met someone else' would suffice.
Sin 10: No photos
Not strictly an email specific problem, but if you send a message to a match and you don't have a photo, anecdotal evidence suggests you're hugely reducing your chances of a response. Of course, it's entirely up to you whether you post a photo and we know that some members are uncomfortable or even unable to do so. But if you can, we urge you to, as our research shows it increases your chances of being communicated with by 9 times.