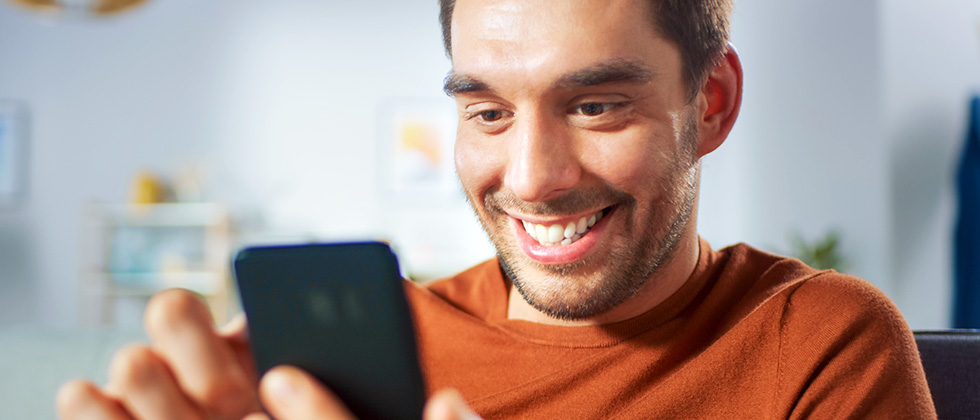 Swipeout Point: how long does it take to decide if you fancy a match?
A new experimental study by cognitive psychologists gives new insights into how we make key decisions on dating apps
We all know swiping can be a fast business. Casual dating apps are set up to draw people in like gambling apps with alluring designs and stylish icons. And just as fruit machines have flashing buttons to entice people to spend on impulse, swipe apps are cleverly designed so that all it takes is a flick of the finger to save or bin a potential match.
But with around one in four people now meeting online, is it fair to suggest that swiping is symptomatic of a fickle dating culture?
We wanted to explore this theory. So, the experts at eharmony teamed up with cognitive psychologists at the Universities of Lincoln and Swansea to find out just how long it takes the average single to swipe left or right.
We recruited just under 900 participants for a series of live experiments to look at a range of factors relating to dating decisions.
Initially, they were presented with a series of basic dating profiles which were essentially just pictures of men and women with no further information. Having swiped away until their fingers ached, these volunteers helped us evaluate the median amount of time it takes to decide on a dating decision based on appearance – which turns out to be just one second.
While the speed of the average swipe may not surprise seasoned daters, it came with an interesting caveat. When the participants in the experiment were given less than one second to swipe, they found it hard to decide which way.
This suggests our brains are wired to need at least one second to take in all the visual cues of a dating profile picture.
Concurrent research by the same team also found that the average single takes a more measured 42 minutes to decide on a second date, once they've met up with a match in real life. (So, lockdowns notwithstanding – get offline and meet for that intro drink.)
The team then focused on other factors, beyond just pictures, that could further influence a swipe left or right.
They found the biggest consideration for men is whether their prospective partner smokes or not, with 65% opting for non-smokers. For around two thirds of women (67%) the location of their match remains a priority (see table below).
Interestingly, findings show that the more information a single has on a prospective partner, the more likely they are to match. This mirrors previous eharmony platform data which demonstrates writing a profile between 200 and 250 words leads to 50% more messages.
In parallel, our new research found that 40% of singles would rather date a match who expressly says they want pets – irrespective of their profession and social status.
And, contrary to the usual babymaking clichés, for women finding a partner who wants a pet is initially more desirable than one who wants a child (42% v 39%).
Traditional gender norms still have an influence though, with women attaching more importance than men to income (43% v 29%) and profession (38% v 30%) when seeking a match.
Dr Robin Kramer, cognitive psychologist at the University of Lincoln, said: "Cognitive psychology helps us to understand the human interactions going on around us every day.
"Our work with eharmony sheds light onto decisions made when it comes to dating and interacting with a new potential partner. Though nuanced, at the core the research suggests Brits like to make informed decisions – the more information they have – the better they can judge potential compatibility."
Factors influencing decision-making split by gender
| | | |
| --- | --- | --- |
| Overall | Male | Female |
| 1. Location (65%) | 1. Non-smoker (63%) | 1. Location (68%) |
| 2. Age (65%) | 2. Age (63%) | 2. Age (67%) |
| 3. Non-smoker (64%) | 3. Location (63%) | 3. Non-smoker (65%) |
| 4. Weight (54%) | 4. Weight (56%) | =4. Height (51%) |
| 5. Height (46%) | 5. Family set-up (44%) | =4. Weight (51%) |
| 6. Family set-up (45%) | =6. Height (39%) | 6. Family set-up (47%) |
| 7. Desire to have children (39%) | =6. Desire to have children (39%) | 7. Income (43%) |
| 8. Desire to have pets (39%) | 8. Currently have children (39%) | 8. Desire to have pets (42%) |
| 9. Income (37%) | 9. Desire to have pets (35%) | 9. Desire to have children (39%) |
| 10. Profession (34%) | 10. Profession (30%) | 10. Profession (38%) |
| 11. Currently have children (26%) | 11. Income (29%) | 11. Currently have children (29%) |
| 12. Social status (26%) | 12. Social status (26%) | 12. Social status (26%) |
| 13. Being tee-total (20%) | 13. Hair colour (24%) | 13. Tee-total (17%) |
| 14. Hair colour (19%) | 14. Being tee-total (22%) | 14. Hair colour (15%) |
| 15. Eye colour (15%) | 15. Eye colour (19%) | 15. Eye colour (12%) |