The top 10 dating mistakes everyone has made
Source – She Knows
10. Insult online dating
Nowadays, there are approximately 5 million people in the UK who use online dating. So to say that dating websites are full of weirdos is making a blanket assumption about a large chunk of the population. If you relish being a hater, eHarmony is full of interesting and cool people who could change your mind.
Source – Favim
9. Eat something sloppy and get it all over yourself
We know it can be a nerve-wracking experience to go on a date. Don't make it worse by ordering sloppy pasta sauces or shell fish requiring a jackhammer to extract it from its shell.
If you really must have spaghetti bolognaise, then you should socially engineer this scenario: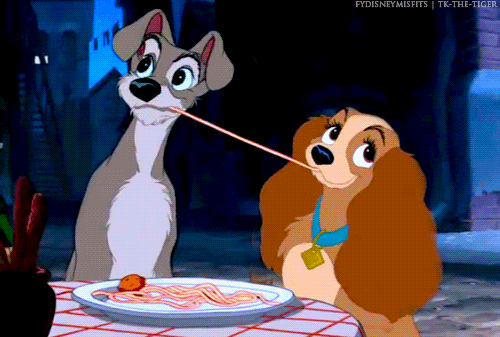 Source – Img.com
8. Instagram or tweet pictures of food / the restaurant / your date
This is a modern phenomenon that's swept the world faster than you can say 'smart phone'. Taking pictures of your food or the restaurant and posting them to Instagram might make your date think you're a pretentious hipster at heart! Another similar scourge of modern society is the updating of one's Facebook status whilst on a date. People of Earth – this must stop!
Source – Elite Daily
7. Be too honest (it's creepy)
Sometimes it may feel like there's an instant connection, as though the stars are aligned and you're destined to live happily ever after! Still, you should play your cards close to your chest. Don't reveal your bucket list on the date (marriage and three kids by 30, right?), or that you think your date looks like the perfect physical mate. You might just find them doing a cartoon-like dash out the door in between the main and dessert.
Source – Crushable
6. Play the sympathy card
If you've recently gone through a bad break up or have accumulated more baggage than an airport – it's not a good idea to reveal this on the first date. Instead you should probably do some inner work, heal, and get back to your happy self before going on a date.
Source – WhinyBaby
5. Put them in the friend zone
Ok, so you've discovered that you have lukewarm chemistry with your date. Rather than completely obliterate their hopes on the date itself, let them down more gently afterwards with a call or an email. Be kind, nobody enjoys being put into the friend zone, unless the feeling is mutual.
Source – Shechive
4. Moan about your life
Don't do this unless you want to bore the pants off your date and ensure that they don't want to see you again. It's hard to get enthusiastic or excited about seeing a person when all they do is complain about their job and everything else.
3. Drink Too Much
If you're nervous, don't have a sneaky shot before the date. It will only make your memories of the evening swim in a mystical brain haze. You may not even be able to tell if you both actually get along, or if you were just slightly drunk.
Source – Fjcdn
2. Use a discount coupon
No really, it's great that you love a bargain. But don't use that Groupon voucher when you're on a first date. It hints that your date isn't worth spending the extra couple of quid on. That isn't nice!
Source – Panda Whale
1. Money Doesn't Talk 
Money is a touchy issue. Bringing it up can make you seem as though you have less than honourable intentions. Whether you're a Dickensian orphan or a Lamborghini owner, it really shouldn't matter, at least not at the start.
Source – We Know Memes
If this article gave you the confidence to find your match, try eharmony today!
Join Now
More like this: