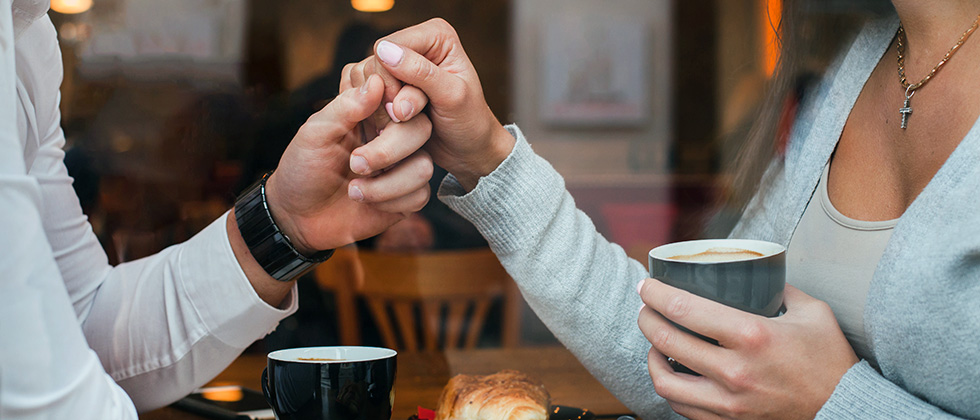 When's the right time to say 'I love you'?
One of the scariest things about a new relationship can be figuring out when and where to say those three magic words. When is the right time to drop the 'L Bomb'?
Despite stereotypes about the British being reserved, it seems we're relatively forthcoming when it comes to declarations of love. In fact, though most Brits wait around three-and-a-half months to say 'I love you' for the first time, one in 10 drops the 'L Bomb' within a week of meeting a new flame.
In terms of location, most of us share this sentiment at home (19%) or whilst cuddled up in bed (14%). Perhaps aided by dutch courage, pubs and restaurants are also popular spots for couples to say the three magic words.
Two in five Brits (39%) have sex for the first time before saying 'I love you', while a fifth (19%) prioritise meeting the parents and 13 per cent take a holiday first – rising to more than a quarter (27%) among jet-set Londoners.
Regionally, Scottish people say 'I love you' quickest at 84 days [see table below], whilst the Welsh take the longest at 144 days.
The research also found that men under 35 are most likely to blurt out the L-bomb quickly with almost a quarter doing so in a week or less. Whether this suspiciously high number means it's being used to smooth the path towards first-time or more sex is open to conjecture, but it challenges the common perception that women are most likely to wear their hearts on their sleeves. It could also be tied up with cultural cues which still emphasise the role of men in initially formalising a relationship in terms of exclusivity.
So overall, what of the one in 10 Brits who declare love after just one week? Are they simply romantic souls or bordering on reckless?
While some partners might bask in the compliment, others are equally likely to run for cover. Too much intensity has often led to the early demise of initially promising pairings.
The truth is that some relationships do move incredibly quickly and evolve into happy, long-term events. But one week into a romance, what you're likely to be experiencing is infatuation rather than love, boosted by a cocktail of endorphins and sex hormones.
And during those early days of high-intensity passion, it's easy to be blinded to a partner's true character. Be it friends, colleagues or lovers – it takes months to get to know someone properly.
It certainly takes more than a week to determine whether you're compatible and share the same values and personality traits – the gold standard for lasting love.
Therefore, if in any doubt hold off on dropping the L Bomb until you instinctively feel you're on steady ground and have enjoyed a variety key experiences together. Sometimes, it's slowly-cooked recipes that make the most delicious dishes.
How it works

Your search for a great relationship has never been easier with groundbreaking overhaul of the eharmony you know and trust.

Table 1: How long it takes people to say, 'I love you', split by region
| | |
| --- | --- |
| 1 Scotland | 84 days |
| 2 East Midlands | 90 days |
| 3 East of England | 90 days |
| 4 Yorkshire and Humberside | 102 days |
| 5 West Midlands | 102 days |
| 6 South East | 105 days |
| 7 North East | 108 days |
| 8 South West | 114 days |
| 9 North West | 123 days |
| 10 London | 132 days |
| 11 Wales | 144 days |
| UK average | 108 days |