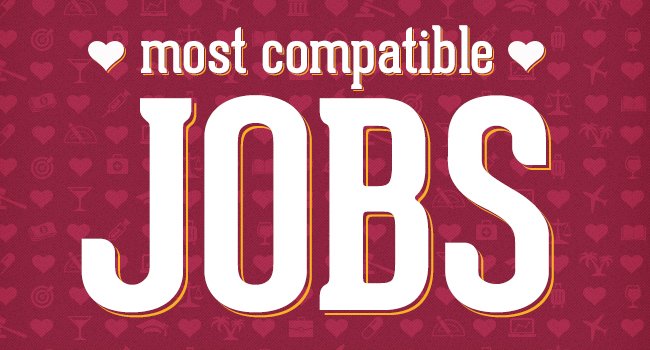 Which jobs are the most Compatible? [Infographic]
At eharmony, we looked into which career choices were attracting the most attention! Our study found that men working in advertising and female lawyers are the most attractive* people to the opposite sex.
Whilst studying how compatible singles connect and communicate on eharmony.co.uk, our computational scientists also looked into whether or not your job could be influencing your attraction online.
The findings revealed that men who work in advertising, law and pilots receive the most messages from women online, while men are most likely to contact women employed in law, marketing and advertising.
Who talks to who?
As well as revealing the professions that are the most desirable, our research shows the occupations that are most likely to start talking to each other online. Male lawyers paired with female architects are the most likely to start communicating with each other, followed by researchers with fellow researchers and male physical therapists with female bankers.
The pairings that are least likely to initiate a conversation are male caterers with female students, male librarians with female teachers, and male caterers with female doctors.
So who's the fussiest?
Another interesting observation is which vocations are the most fussy when it comes to who they date. For men, travel agents, waiters and pharmacists are the pickiest, while the least picky are librarians, bartenders and caterers.
For women, a different trend applies – with librarians being the most picky, followed by pharmacists and engineers. Marketers, admin assistants and bartenders are the least fussy.
And when it comes to receiving messages from the opposite sex, it seems online daters aim high, with male pilots and female flight attendants receiving the second most messages from interested parties, just behind people that work in advertising.
Dr. Steve Carter, eHarmony's Vice President of Matching, said: "As experts in relationship compatibility, we were interested to see which combinations of jobs seemed mutually attractive, versus which ones were most attractive to possible partners in general. Interestingly, while bankers and lawyers can get a bit of a hard time generally, it seems they're actually quite popular when it comes to potential romance."
Top 10 best combinations most likely to communicate with each other (male/female)
Lawyer (male) and Architect (female)
Researcher (male) and Researcher (female)
Physical Therapist (male) and Banker (female)
Business Executive (male) and Business Executive (female)
Advertising (male) and Marketing (female)
Doctor (male) and Architect (female)
Researcher (male) and Pharmacist (female)
Physical Therapist (male) and Doctor (female)
Banker (male) and Architect (female)
Pilot (male) and Lawyer (female)
Top 10 most attractive* female jobs (to men)
Lawyer
Marketing
Advertising
Teacher
Physical Therapist
Flight Attendant
Banker
Accountant
Police
Barber/Stylist
Top 10 most attractive* male jobs (to women)
Advertising
Lawyer
Pilot
Banker
Physical Therapist
Business Executive
Architect
Police
Doctor
Consultant
*By attractive, we mean the jobs that receive the most 'communications' from the opposite sex on eHarmony. This includes 'Icebreakers', 'Guided Communication', 'Open Communication' and 'eHarmony Mail'.
How it works
Your search for a great relationship has never been easier with groundbreaking overhaul of the eharmony you know and trust.