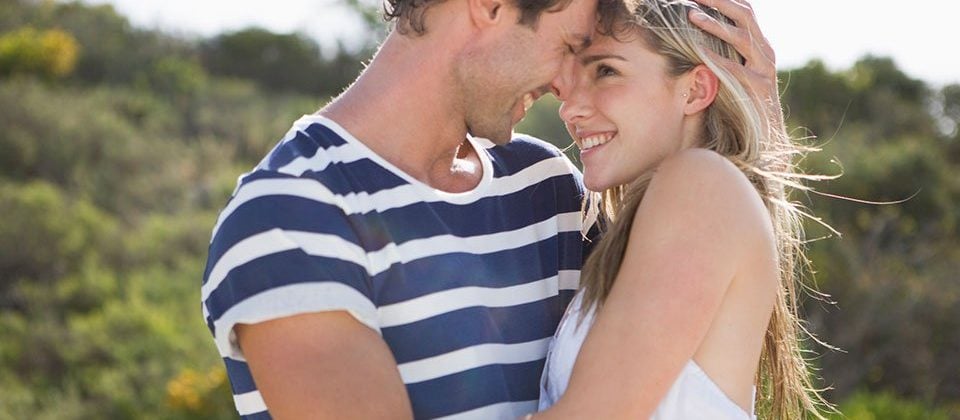 When should you keep dating someone you're not attracted to?
Kind, funny, interesting – when we think of our perfect partner, attraction isn't always at the top of the list.  But what if you find a connection with someone you're not attracted to? Should you ever keep dating them?
While the most successful relationships are built on shared values and personality traits, they also usually start with a spark of attraction. That initial pull that piques our interest and turns a friendship into something more lies at the heart of every single person's search for long-lasting love. In fact, it would never occur to most of us that we should ever date someone that we're not attracted to.
But are we missing out? You know what it's like; you've had great textual chemistry, you like the look of each other's photos and you're excited for your first date. But then you meet up and, well, you just don't feel 'it' – you're not attracted to them. So you shouldn't bother with a second date, right? Wrong.
Think back over your past relationships. Have they followed similar patterns? Maybe you always fall for the charismatic bad boy who sweeps in and out of your life on a whim, or maybe you tend to date women who have just got out of a long-term relationship and aren't looking for anything serious. If you find that you always go after a certain type, then you may have fallen into a destructive pattern of behaviour and it might be time to start second-guessing your instincts.
Break the pattern
It's natural, if you've been burned in the past, to seek out similarly unhealthy relationships. It may be that they feel familiar and offer comfort (despite causing pain in the long-run) or you may be subconsciously trying to correct the mistakes of the past. You'll often find yourself effortlessly attracted to those who fit your 'type' and quickly discount accounts as appearing 'too nice'. If this strikes a chord with you then, despite how ready for a relationship you feel right now, you could still have your guard up and be attracted to relationships that lack real emotional intimacy.
The only way to shock your system and escape these destructive patterns is to rebel against your type. Insecurity and uncertainly can often be mistaken as excitement. That breathless feeling when you check your phone to see if they've finally called and those heated arguments followed by intense reunions can help to fuel your attraction to that person, but that kind of rush rarely leads to a successful long-lasting relationship.
If you've ever had one of those friendships that slowly turned into a relationship, then you may already know that sometimes the spark takes a little time to arrive. Attraction can grow over time as you learn more about each other, open up to one another and become more relaxed in each other's company.
It's difficult to remember the slow burn effect when you're judging someone on a first date, especially if a second date is determined on whether or not you feel initially attracted to them. If you've found that your instincts have often caused you to make mistakes in the past, then try to determine how the person makes you feel before contemplating whether you're instantly attracted to them or not.
Look beyond outward appearances
A genuine person who's really worth getting to know might not come across as flash or exciting at first glance, and they may not be quite as comfortable using their charm, but that doesn't mean that they should be immediately discounted. Have they made you feel at ease? Do you find it easy to make conversation? Are they open and happy to share details of their life with you? These factors are all a good indicator that the person is worth getting to know a little better, whether you feel attracted to them or not.
How it works
Your search for a great relationship has never been easier with groundbreaking overhaul of the eharmony you know and trust.
Dating people who are kind and interesting – even if those dates don't turn into a long-term relationship in the end – can be a great way to start breaking old habits and open yourself up to new people who might just turn out to be exactly what you're looking for.
This isn't necessarily advice that applies to everyone, but if you've never had a long-term relationship that's easy and healthy – or haven't had one in a while – then it's worth considering whether you should be placing so much importance on that initial attraction. Many of us approach online dating looking for that spark, but attraction is just one aspect of the complex algorithm behind compatibility. So, the next time you find yourself on a first date with someone who's smart, kind and funny, but you're not completely sure that you're attracted to them, then maybe don't be so quick to dismiss them – you never know what might happen next!