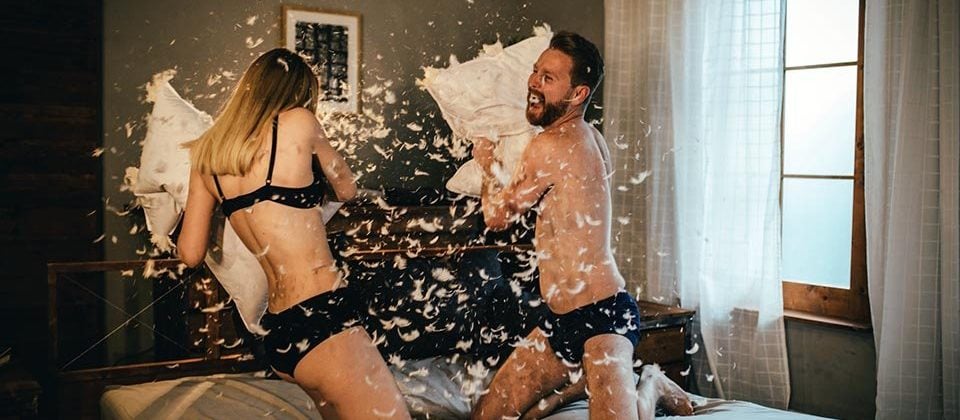 No strings attached dating: what commitment-phobes really think
When someone says they are not ready for a relationship, is it you or is it them? Writer and former commitment-phobe Helen Croydon reveals what's really going on in the mind of a serial no strings attached dater.
Hands up if you've ever looked at your phone, seen several messages from different love interests and got a secret thrill?
I have a distinct memory of this one summer's day three years ago. I was on a romantic walk with a date. He was certainly boyfriend material but, as always, I wanted to keep it casual. As we walked, I got a text from a guy I'd been flirting with at my gym. Minutes later, another, from someone I'd had a fling with weeks earlier. I remember looking at those three different names in my message inbox and feeling a shot of endorphins flow through my veins.
The appeal of no strings attached dating
I'm not the only one who's felt this, especially in today's dating arena where apps with instant matching criteria dominate. I cultivated a circus of messages in my phone purely for my own affirmation and excitement.
For the best part of a decade I was a serial dater looking for fun. A committed commitment-phobe. It wasn't that I was bitter, jilted, or anything else worth of analysis. I just didn't want to be pinned down. I wanted more than NSA, meaning I wanted romance and passion. But a regular boyfriend? No way.
I saw dating as a form of entertainment rather than the path to a meaningful relationship. The more chaotic my love life the better because it made for better stories. Once, while out for dinner with one suitor, I took a liking to the sommelier and passed him a note with my number when I went to the bathroom, just because I wanted to see if he'd bite. He did, but was nowhere near as good looking when we met in daylight!
The idea of a real relationship
My predilection for no strings attached dating began after I split up from a possessive boyfriend aged 28. Online dating wasn't so prevalent 12 years ago and so it was both novel and exciting.
I was so sure that I never wanted to be pinned down by a full-time relationship that I even wrote a book about it. But 12 years on, I'm now in one and very happy.
What happened? Over time, the thrill of meeting strangers faded. As my work responsibilities increased and I became conscious of the need for early nights, my thirst for fun and casual dating calmed.
A longing for something deeper crept in. Small revelations at first – a house move, which left me lugging a 40kg concrete Buddha across a main road because none of the four men in my life were serious enough for me to ask for help. And then big epiphanies – an international sports event, which I spent a year training for only to watch every other competitor be hugged and kissed by someone they loved on the finish line.
I opened myself up to the ideal of a real relationship and, guess what? Months later I did meet someone special.
Taking steps on the relationship journey
I'm not telling you this because I want to share my fairytale (the ending is still to be written). I'm sharing these experiences because in my decade of chasing fun, casual encounters and NSA arrangements, I learned the number one rule about relationships: no one falls in love unless they're open to it.
How it works
Your search for a great relationship has never been easier with groundbreaking overhaul of the eharmony you know and trust.
I hear frustrated single friends agonise over people who go from 10 WhatsApp messages a day to zero. Or they get angry that the person they're mad about doesn't even seem excited about seeing them.
I know that none of this behaviour stems from malice. Or even lack of attraction. Most likely they're just not ready. I've been guilty of breadcrumbing and cushioning. I bet some of your friends, who you consider to be nice guys, have too.
When I look back on my days of playing the field I see that it was mostly fuelled by ego. Every stranger was a potential conquest. Flirting was a game with validation as the stakes. Great when you have the upper hand, but potentially devastating when someone you like doesn't text back. Also, I hadn't achieved all the things in life I wanted to. I had a career to further. Phases to experiment with. New friends to make.
It was only when I became content with my lifestyle, values and friendships that I felt open to a relationship.
Casual sex and NSA relationships have their purpose but, as humans, I believe we all ultimately crave intimacy, security and continuity. Even so, we can't change where someone is on their relationship journey. So, the next time someone ghosts you, don't agonise, just make sure your next date is in the same place as you.