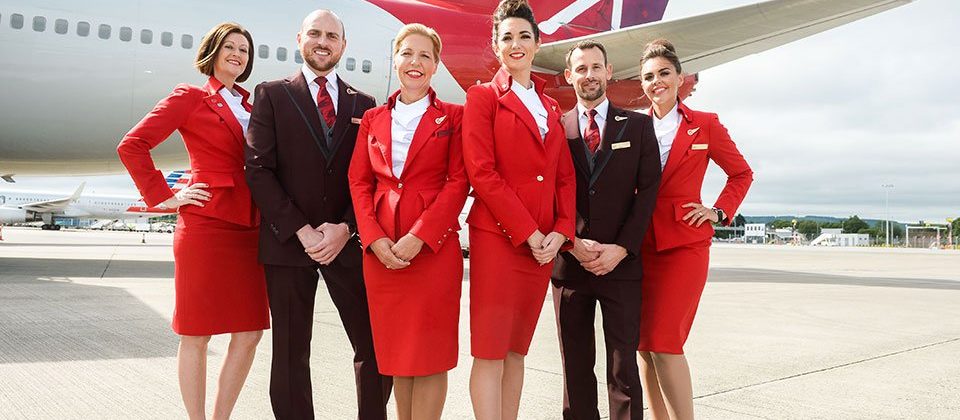 15 reasons to date a member of cabin crew
Does the idea of coupling up with cabin crew make your heart soar? We asked our friends at Virgin Atlantic to share just a few of the many reasons why you really should consider dating a member of cabin crew
1. You get great travel perks. Upgrades anyone?
After all, who hasn't dreamed of drifting off in an Upper Class cabin? (Plus, cabin crew get all the best deals!)
2. They'll do all the holiday planning – and take you to the best places
Not only have they been everywhere but they know all those secret hot spots that the typical tourist misses out on!
3. They're great tour guides
Whether you've always dreamed of a wild weekend in Vegas or spending the day on the beach in Barbados, you'll have the perfect travel buddy.
4. Endless duty free from all their trips
The healthiest way to feed your Toblerone addiction!
5. You get the bed to yourself half the week
And you'll appreciate it so much more when they're home.
6. They're always perfectly groomed
Have you ever seen a member of cabin crew with a hair out of place, even after an 11-hour flight? Exactly.
7. They're first aid trained – they could save your life
Flight attendants know their CPR from their Heimlich manoeuvre, so you can trust that you'll always be in safe hands.
8. They stay calm, even in the most stressful situations
Cabin crew are trained to be able to cope with any emergency, keeping everyone calm and preventing panic – skills that are sure to come in handy when you're arguing over the washing up!
9. They have the best work stories
You'll never have a boring dinner date with a flight attendant – their wealth of anecdotes from the air means that conversation is sure to flow.
10. They can talk to anyone, from kids to the elderly
There's no need to be nervous about introducing them to your family or friends – they're sure to put even the trickiest customer at ease.
11. They're never late
Flight attendants know that organisation and timing is everything so they'll never keep you waiting for your date.
12. They're in great shape
Planes might not have a lot of space but cabin crew are on their feet all day – working a flight to New York means 5 miles of walking!
13. They're adventurous
Cabin crew have chosen a career that takes them all over the world, so they'll almost certainly be up for an adventure.
14. They're experts at packing light
Cabin crew are used to living out of a suitcase, so if you do go away, you know you won't have to waste any time at the baggage carousel.
15. They could pass your business idea to Richard Branson!
Want to be the next millionaire mogul? This could be your big shot!
Virgin Atlantic was founded by entrepreneur Sir Richard Branson over 30 years ago after he decided the UK aviation industry needed shaking up and an injection of style. The airline has pioneered a range of innovations setting new standards of service. For example, Virgin Atlantic was the first airline to introduce the Premium Economy product, include a bar in every aircraft for Upper Class customers, offer seatback TVs on every seat in every cabin, develop a fully flatbed seat and fly a commercial aircraft on biofuels. Despite Virgin Atlantic's growth, the service still remains customer driven with an emphasis on value for money, quality, fun and innovation. Today, Virgin Atlantic flies to over 30 destinations worldwide, including locations across the United States, the Caribbean, Africa, the Middle East and Asia.