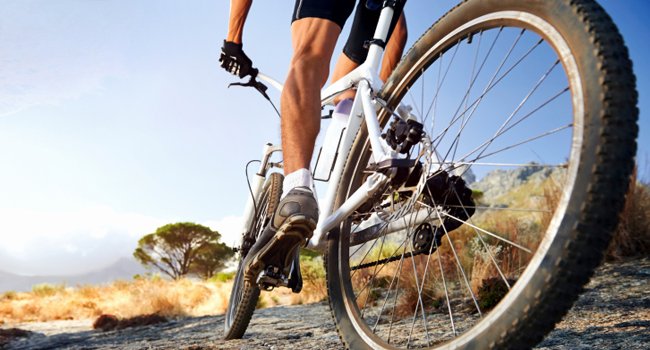 15 Reasons to Date a Cyclist
Forty-three percent of the British population owns or has access to a bicycle. The number of two-wheeled pedal-pushers is growing daily, so it's almost inevitable that you'll date one. Here are the reasons why you should embrace the prospect.
1. Cyclists have nice faces. Research published in the journal, Biology Letters, showed that the top 10% of performers in the 2012 Tour de France were rated as being 25% better looking than those that lagged behind them.
2. They're smooth. Not as in charming (thought they might be), but as in no hair. Cyclists are dedicated leg-shavers. Most people think this is to improve aerodynamics, but the real reason is that it makes their post-cycle massages more pleasurable
3. They live to a ripe old age. The National Cycling Charity says that cyclists live an average two years longer than non-cyclists.
4. Cyclists are slimmer than your average bear. According to the University of Aberdeen, cycling burns 600 calories an hour.
5. Contrary to popular belief, cyclists aren't mental. In fact, their chosen activity boosts their levels of well-being, self-confidence and tolerance to stress – all of which make them good company.
6. Cyclists are full of anecdotes to fill potentially awkward silences. Admittedly, most of them involve near misses with motorised vehicles.
7. There's no need to eat daintily. Order what you like on a dinner date – it'll still be less than a cyclist eats. It's not unheard of for them to munch their way through 6,000 calories a day.
8. Cyclists love a bit of lycra. They love a LOT of lycra, if truth be told. Whatever your opinion of the material, it certainly allows a fair appraisal of what's underneath it.
9. They're super-fit. A study in the Journal of Sport and Leisure reported that regular cyclists have a level of fitness equivalent to being 10 years younger.
10. Cyclists are fond of travel. Expect to be whisked away on a bicycle made for two.
11. They can fix things. A lot of cycling is about maintenance. This skill-set can be transferred to maintaining toilets, cars and morale.
12. Have you seen cyclists' legs? Like pistons they are. Next time you see a cyclist, check out their thighs and calves – you'll be amazed what powering a bike can do for muscle definition.
13. While you're there, check out their derrières – they're reliably toned.
14. Cyclists are good earners, mostly because they've been shown to take less sickies than their non-cycling workmates.
15. No pushing prams. Have a baby with a cyclist and they're sure to find a practical way to carry baby around on their bike – cute!
Would you consider dating a cyclist? Or maybe you already are – have we missed anything? Tell us in the comments below!