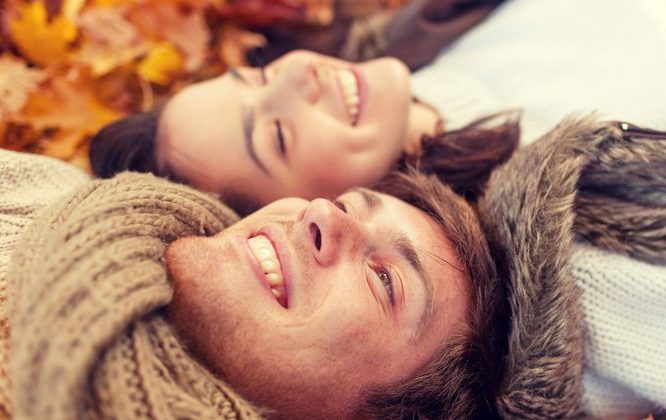 Why autumn is the best time to date
The weather may be turning cold and the nights are drawing in, but did you know that autumn is actually one of the best times to date? Charly Lester explains all…
October and November can be funny months. It's as if winter appears overnight. Everything is suddenly so much colder and darker, and the last thing you want to do after work is head out on a date. But don't hang up your dating shoes for the winter just yet, as autumn can actually be the best time to date.
Why? Well, quite simply, because all singles find themselves in the same boat. The summer is over and all the things that seem fun when you're single are suddenly just that bit lonelier again. Coupled up friends disappear behind closed doors, and you're left alone, abruptly reminded of your single status.
As a result, everyone begins properly searching for a partner again. There's just enough time to meet someone ahead of Christmas, and lots of fun and festive things happening, from Halloween parties to fireworks.
While late November and December are dominated with Christmas parties and family gatherings, October and early November can be the perfect time to meet someone new.
So, spend a bit of time giving your dating profile an autumn makeover. Update it with recent pictures from the summer, where you're sun kissed and smiling. Devote an evening or two to reaching out and responding to new matches, and free up your diary so you've got time for some first and second dates.
Try to check your online accounts regularly. This is the time of year when people are either joining new sites or resurrecting dormant profiles, so every time you log on, you may find new potential matches.
Resist the urge to head straight home after work and make the effort to stay in town at least one or two nights each week. Make plans with friends in sociable surroundings, where you might meet someone new. Make an effort to speak to someone new at a Halloween party or set yourself the challenge to go and see the Bonfire Night fireworks with someone new.
Research date options, so you're exciting about what's on offer – that way, you're more likely to try and find someone to attend with you. Check what's on at the theatre and find out about the season's exhibitions. Cosy up in the cinema or sample a pumpkin-flavoured drink. Make the most of being single this autumn – chances are that this time next year, you won't be single at all!