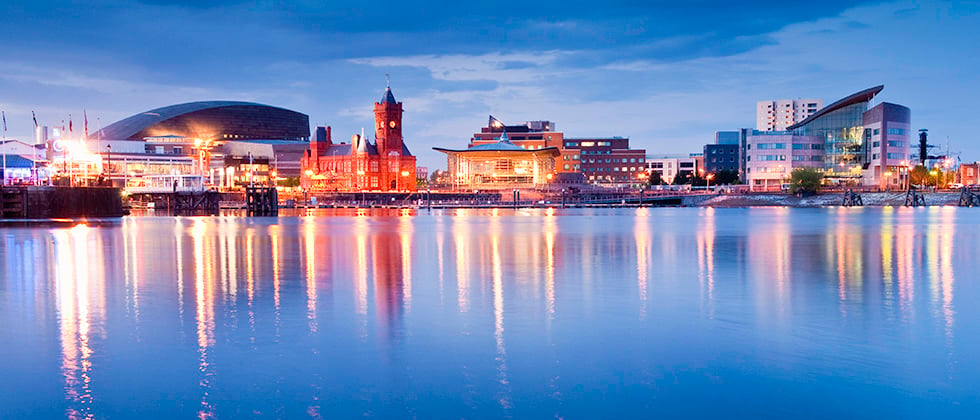 Dating in Cardiff: ideas for every occasion
The Welsh capital is a city of surprises. If you're looking for something different to do with your date in Cardiff, then look no further!
Dating in Cardiff offers a whole host of different options – there's something for every taste and occasion. Here are a few of our favourite picks
Cardiff is a truly wonderful and exciting city that has undergone an amazing regeneration over the last few years. Whether you want to hang out in the bustling city centre or head down to the bay for a more relaxing atmosphere, there's something for everyone in Cardiff. If you're looking for somewhere to take your date in Cardiff that's a bit more exciting than a quick drink in town, then you've come to the right place.
1. Thrills and chills on the bay
If you and your date are thrill seekers, why not try an RIB (rigid inflatable boat) tour out into Cardiff Bay, and beyond? It's a great way to see some of the Welsh coastline, and feel the wind in your hair! Be warned though, the boats get up to very high speeds, and you might get a bit wet! Once you return to dry land, why not treat your date to a tasty ice cream and a wander along the front to shake off your sea legs?
2. Get your appetite up for dinner
Cardiff Bay isn't just about fancy restaurants and nightlife, it's also a wonderful place to have a relaxing and refreshing walk or cycle. This date is perfect for a Sunday when you might feel like you need to blow a few cobwebs away! The route you choose depends on how adventurous you're feeling, but the entire Cardiff Bay trail is 10k in length, giving you a good couple of hours walking, or a shorter cycle. For something less challenging, try walking across Penarth Head via the Cardiff Bay Barrage Coast Path .
End up at the Bay and choose somewhere delicious for Sunday lunch. There's a huge selection of places, whether you fancy a nice simple pizza from Pizza Express, or something locally sourced from Mimosa Bar & Kitchen. All you need to do then is relax and watch the world go by.
3. History and beauty
One of the most striking things about Cardiff is the beautiful castle situated right near the city centre. You can't fail to miss it, and it's well worth a visit. A date somewhere like a castle, museum or gallery is always a great option as the interesting surroundings really keep the conversation flowing, even if the date isn't going perfectly! Depending on the time of year you choose to visit there's often something on at the castle, from open-air theatre to jousting.
Then, once you're both castled-out, head over to Cathays Park; a beautiful green space handily placed right next to the castle. Assuming the weather is nice, whip out a blanket and tuck into a delicious picnic.
4. Tea and tunes
Shopping might not be your top choice for a date, but (as ever) Cardiff offers a wonderful alternative to modern shopping centres. The city centre is host to some beautiful Victorian and Edwardian arcades selling everything from antiques to traditional Welsh love spoons. Spend some time looking at the old books, comics and magazines in some of the second hand book stores, then quench your thirst with afternoon tea at one of the arcade's cafes whilst comparing your finds from the book store. If you're both music lovers, head to Spillers Records – the oldest record store in the world – and find out about each others' music tastes. Shopping doesn't need to be dull!
5. Embrace your inner geek
Cardiff has a not so secret geeky underbelly that you might want to explore on a date (maybe not a first date though, unless you're both confirmed sci-fi fans!) First off, head to the Red Dragon Centre and get tickets for the Doctor Who Experience. Nearly everyone will find something fun to look at here, where you can play with a life-sized Tardis or check out some of the great costumes from the series. There's nothing like connecting with your inner child to break down any barriers on a date.
Once you've had your fill of Daleks and Cybermen, head over to Cardiff Bay. Here you'll find Bar Cwtch, where the entrance is a Tardis door! Inside things get a bit less geeky, and just a bit quirky with rubber ducks around the bar and huge sofas to relax into.