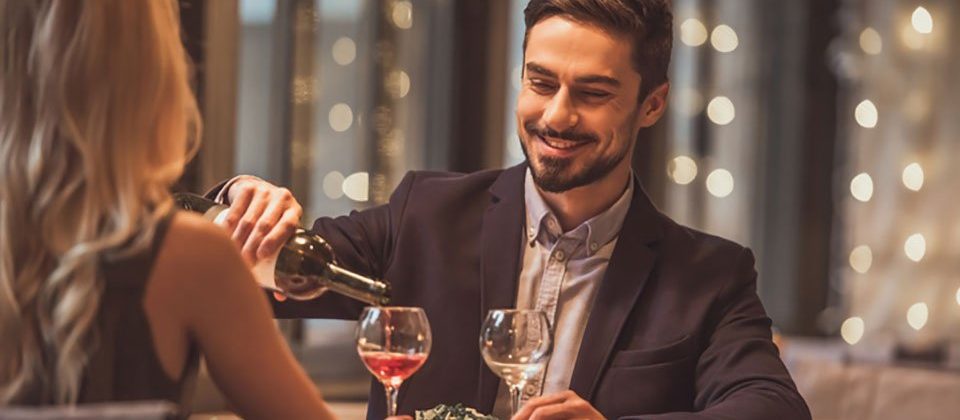 7 secrets to having a great dinner date
Going for dinner is a go-to date choice, but it's also an easy one to get wrong. Want to know the secret to having a great dinner date? We asked our friends at Café Rouge to share their top tips
1. Pick the perfect venue
There are several things to consider when picking the perfect dinner date venue. The atmosphere should be relaxed – to put your date at ease – and quiet, so that you can have a decent conversation, but also luxurious enough that your date feels you've tried. Try to choose a restaurant with a varied menu that caters to all dietary requirements. A restaurant like Café Rouge has the perfect casual chic vibe for a date and offers a range of vegetarian options alongside French classics like Confit de Canard – it's sure to impress even the pickiest eaters!
2. Don't be self-conscious about your order
Never feel that you should order a salad if what you really want is a big plate of boeuf bourguignon! Or maybe you're someone that's happier diving into the sides menu (especially when halloumi fries are on offer) than going for a standard main. Don't be self-conscious about your order. You date wants to spend time getting to know you, not criticise your culinary tastes. And do you really want to date someone who judges you for choosing a burger over soup, or vice versa?
3. Never be rude to the waiter
It's a universal truth that you can tell a lot about a person from how they treat the restaurant staff. Are they polite or dismissive? If they're the latter, it could be a sign that your date craves power, lacks empathy, or has a huge ego – not exactly desirable traits in a potential partner. You'll likely find that your dinner date isn't just rude to waiters, they may act in a demeaning way towards their family members and colleagues too.
4. Do eat…
Sometimes nerves can get the better of you or you genuinely lose your appetite but if you're on a dinner date, don't be afraid to eat. Of course, you may still want to take precautions to ensure you don't end up spilling, splashing or wearing your dinner! We'd recommend maybe skipping the moules and choosing steak frites instead. And don't be afraid to use a knife and fork for dishes that you'd usually eat by hand such as pizza and burgers. If it makes you feel more comfortable, and helps conversation flow easily, then go for it
5. …but take your time
You might be a naturally speedy eater but racing through your meal when on a date will almost always come across as rude. It'll either look like you're eager to escape or make your date uncomfortable as you sit and watch them finish their meal. Take your time and make sure that you focus on keeping the conversation going as you eat. If you struggle to slow down, try taking a sip of water after every third bite, or make a conscious choice to put your knife and fork down at regular intervals.
6. Don't steal from your date's plate
However tempting it might be to take a bite of your date's meal, don't do it. If you want a second date, reaching over and stealing a chip is not the way to get it. Sharing platters are a much more socially acceptable way to avoid food envy. Why not order a sharing board of baked Camembert, sausages, crudities, flatbread, hummus and olives so you can both dig in?
7. Always order dessert
Why would you want your date to end early? Unless you're having a terrible time, always stay for dessert. It'll make the date feel like a special occasion and shows that you're in no hurry to leave. Treat yourself to a luxurious chocolate mousse or spoil your sweet tooth with a spoonful of crème brulee. And if the date is going well, this is one course that it is okay to share.
Would you like a complimentary bottle of wine at Café Rouge? Simply click on this link to receive your offer code: https://bit.ly/2IZz8zt
Complimentary Bottle of Wine – T&Cs
Present a valid offer code on arrival to receive one complimentary bottle of house red, white or rose wine per table when you spend £25 on the À La Carte menu. Available 7 days a week from 12pm at participating Café Rouge restaurants. Not valid in Center Parcs, Café Rouge Euston or in Café Rouge the O2, Cardiff or Edinburgh on event days at local stadia or arenas. Complimentary Soft Drinks will be provided as a non-alcoholic alternative and in Café Rouge Edinburgh due to local licencing laws. Code can only be used once and has no cash value. One offer code per table will be accepted. Not valid in conjunction with set menu or any other offer, voucher, partner card or Tesco Clubcard tokens. Not valid on delivery / takeaway orders.