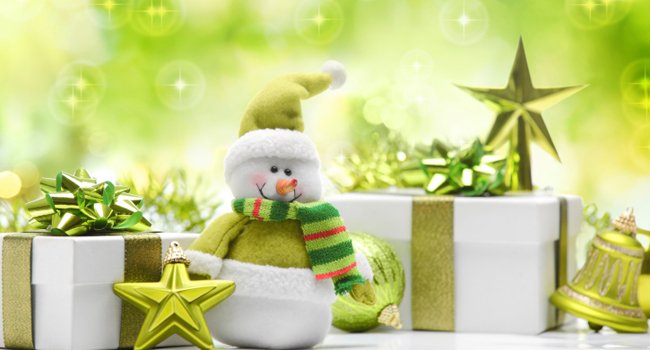 Gift ideas for someone you've recently started dating
Christmas is a very romantic time of year and if you've just started dating someone it's natural to want to give them a small gift as a sign of your growing affection but what to give?
Choosing the right gift early on in a relationship is an important decision and one that needs to be weighed carefully. You want something that isn't too personal or too generic; something flashy and expensive could make your date think you're coming on too strong but a reasonably priced gift that's wrong for them could make them think you're not the one for them after all. Here are some ideas to help you find the right gift for your date.
Tickets to an event
You are already dating so the chances are that you're thinking of things that you could do together. Many shows sell out quickly so it's worth looking ahead and seeing what's coming up in your area. Giving someone a ticket to a show that's in a month or two shows more than just your generous spirit, it also shows your intention to keep seeing them.
Something you made
Whether you make the best fiery gingerbread, are a Picasso with a paintbrush or love to pen verse – giving a new date something you've made yourself is a warm and heartfelt gesture. It shows them you're creative, thoughtful and generous and that you've put time and attention into their gift.
A souvenir from a date
You've probably had some memorable dates, and a gift which symbolises one of those dates can be really special. It could be an in-joke, a poignant reminder of the first time you kissed or a reservation to go back to the restaurant where you first met.
Relationships are made up of shared memories and a gift which reminds your date of those is sure to be well received.
Something to share
To avoid putting too much emphasis on the other person you could choose a gift which is for you both. It could be a special bottle of wine, luxury chocolates or an experience you can do together like ice skating. Cooking a special meal complete with candles and soft music is a romantic gift to you both and one that will deepen your connection.
Music compilation
As Orsino said in Shakespeare's Twelfth Night 'If music be the food of love, play on'.
For as long as there has been recording equipment available lovers have made each other compilations of their favourite tunes. Some songs will be chosen because they have just the right lyrics to express how they feel; others will be an insight into their own personal tastes and others will be chosen to demonstrate their sensitivity to their beloved's tastes and character. The love comes in the mixing – the order of the tracks and the story they tell.
Whether you go all retro and get an actual cassette tape or do it digitally with MP3 downloads, there are few more romantic things than a carefully chosen music compilation. It's easier than ever to locate and find the perfect songs on the internet and you can share the collection on your iPods or media devices. Knowing your beloved will think of you whenever they listen to your collection is a really good feeling and if it hits all the bases in terms of romance, thoughtfulness, happiness and sharing then it's a gift that will always be treasured.
Giving from the right place
Giving is only really a kind act if it's done freely and from the heart with no expectation of return. Don't feel obliged to give anything as though it's a test of your feelings. Spending money you can't afford on something to impress your date is not going to strengthen the relationship, instead it will weaken it. Being authentic and spending time with your date is probably the most precious gift you can give.
How it works
Your search for a great relationship has never been easier with groundbreaking overhaul of the eharmony you know and trust.