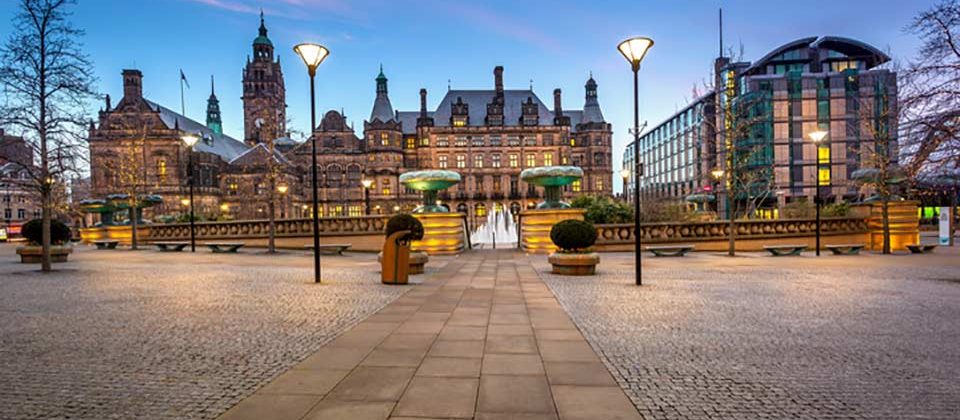 8 great date spots in Sheffield
Whether you're looking for a distinctive drinks venue or something a little more unusual, we've rounded up 8 of the best date spots in Sheffield
Tamper Coffee
For a coffee date with a difference, try Tamper. Offering a slice of Kiwi café culture in central Sheffield, Tamper strikes the perfect balance between casual and chic. With its striking white-washed walls and red brick ceiling, the cafe couldn't be further from your typical chain and its commitment to serving the highest quality coffee will impress any espresso connoisseur. Team your cappuccino with a cake or pastry from The Depot Bakery or visit on Friday night when the café opens late and serves a range of cocktails, wine and craft beer.
Tamper Coffee, Sellers Wheel, 149 Arundel Street, Sheffield S1 2NU, tampercoffee.co.uk
Picture House Social
Going for drinks is one of the most popular first date picks and there's nowhere better in Sheffield to go than Picture House Social. Set in a former ballroom, this independent bar is inherently romantic with plush upholstery, deep purple walls, dark wood and chandeliers. There's a selection of cocktails, craft beer and Italian-inspired street food on offer, as well as a games room and music. Why not treat your date to an original cocktail? We'd opt for the Sheffield-inspired Richmond Park – a refreshing mix of Tanqueray gin, Clement Creole Shrubb, dill, celery bitters, egg white and lemon.
Picture House Social, 383 Abbeydale Road, Nether Edge, Sheffield S7 1FS, +44 (0)1142 581690, picture-house-social.com
Showroom Cinema
If you're dating a film fan, score points by taking them to a screening at Sheffield's Showroom Cinema. This atmospheric cinema is housed within a converted 1930s car showroom and uses its Art Deco interior to showcase a diverse film programme. The carefully-curated mix offers something for every taste, from independent arthouse works to experimental pieces that are pushing the boundaries of cinema. Plus, its convenient city centre location means you'll be within easy walking distance of a bar so you can have that all-important post-credits debate.
Showroom Cinema, 15 Paternoster Row, Sheffield S1 2BX, +44 (0)114 275 7727, showroomworkstation.org.uk
Cocoa Wonderland
Cocoa Wonderland is the perfect date pick for anyone with a sweet tooth. Offering every type of sweet treat imaginable – all handmade in its own factory – this cute café is a great place to cosy up to someone special. Don't leave without trying a cup of its decadent hot chocolate – a heady blend of high quality dark chocolate thickened with cream. And if the date is really going well, why not treat yourself to the full works? Hot chocolate topped with marshmallows, chocolate buttons and brownie pieces.
Cocoa Wonderland, 462 Ecclesall Road, Sheffield S11 8PX, +44 (0)114 268 5050, cocoawonderland.co.uk
Silversmiths
You couldn't ask for a more quintessentially 'Yorkshire' date spot than Silversmiths. This renowned restaurant prides itself on offering warm, Yorkshire hospitality alongside a menu made from fresh, seasonal produce grown, gathered and foraged from across the county. The seasonal nature of the menu means there's always something new to try, but it's hard to beat the weekly pie and steak night or its traditional Sunday roast.
Silversmiths, 111 Arundel Street, Sheffield S1 2NT, +44 (0)114 270 6160, silversmiths-restaurant.com
Sheffield Winter Garden
Whatever the weather (and we all know, it can be unpredictable in Yorkshire!), you can take always take a stroll with someone special through Sheffield's Winter Garden. One of the largest glasshouses in the UK, the Winter Garden is home to more than 2,500 plants, sourced from all over the world. It's a great place to go when you want to escape the hustle and bustle of the city, without actually leaving the city centre. And who could resist a romantic walk among the blooms?
Sheffield Winter Garden, Surrey Street, Sheffield S1 2HH, welcometosheffield.co.uk
Millennium Galleries
If you're looking for a cultural date, head straight to Sheffield's Millennium Galleries. Showcasing a host of art, craft and design, the galleries are sure to satisfy anyone with an artistic passion. Admire its collection of metalwork – Sheffield's heritage industry – or take a tour of the Ruskin Collection. John Ruskin was a Victorian writer that dedicated his life to the pursuit of beauty and his collection contains a mix of Renaissance art, Gothic architecture, detailed engravings and illustrated books. Be sure to stop for a slice of cake in the Gallery Café before you leave.
Millennium Galleries, Arundel Gate, Sheffield S1 2PP, museums-sheffield