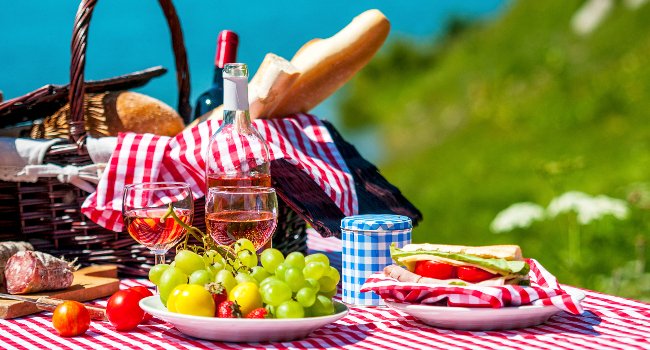 Planning the Ultimate Romantic Picnic Date
Gingham blankets, wicker baskets and bubbly – some date ideas are tried, tested and become a tradition for a good reason. It's no surprise that the romantic picnic has long been a British summertime favourite when it comes to dating. And because we're big fans of sandwiches and sunshine too, we've collected a few tips to help you plan the ultimate picnic.
The food
First of all, relax. Before the recipe search and the pressure that inevitably starts building when you plan to cook for someone you're interested in, remember that this is a picnic. Cold, simple and prepared in advance is the name of the game.
You don't have to be a professional to rustle up a tasty potato salad. In fact you can't go wrong with lots of light, snacky options and some deli-bought picky bits (of the cheese, bread, olive variety).
Of course, if you'd like to show off your skills, you're also given the rare chance to slave away in the kitchen without the pressure of someone waiting, hungrily at the table. If you do choose to raid a deli counter for your nibbles, honesty is the best policy. There's nothing worse than being caught out by branded packaging.
The spot
Picking the perfect location for your picnic is key. Consider the view, think about the noise (there's nothing like traffic noise to get in the way of a romantic moment) and finally consider the local wildlife.
Ants will be just as excited about your spread and much less polite about taking the last sandwich. In fact, we'd recommend scoping out the perfect place ahead of time to make sure it ticks all the boxes. It might feel a little OTT, but it'll save you from the awkwardness of a last-minute move.
Think about the timing too – although there's something to be said for a twilight picnic (it's hard to beat a sunset for romance) it does mean you'll have less time before it gets dark. So mid-afternoon gets our vote – you won't arrive starving and you'll have the whole day to get to know each other.
The accessories
Paper plates or proper plates? Plastic cutlery or the real, metal deal? The logistics are worth considering ahead of time.
If you're going for a light-hearted vibe and might fancy carrying the date on after lunch, we'd suggest going for the throw-away variety so you won't be burdened with a long pack-up or lots of dirty cutlery to take home. But when it comes to the 'ultimate' picnic, there is something to be said for actually being able to cut things and eating off a plate that doesn't bend.
And of course, there's the all-important blanket – it's more than protection from the grass, it's the finishing touch for your romantic scene, so choose it carefully.
The contingency plan
We live in Great Britain. Even the sunniest, blue-sky day has been known to descend into storm clouds and showers. A huge golf umbrella could be pretty romantic if you're up for braving the downpour together. But although kisses in the rain might sound like The Notebook-style romance, sodden sandwiches are likely to ruin the mood a little.
So unless you've got a waterproof place for you, your date and your lunch, you'll need a good contingency plan. Even a picnic in your car, listening to the sound of the rain has the potential to be pretty romantic – and a funny story to tell your grandchildren.
Whatever your plans (and the weather forecast) we hope you enjoy putting on your romantic picnic – don't forget to let us know how it turns out in the comments!