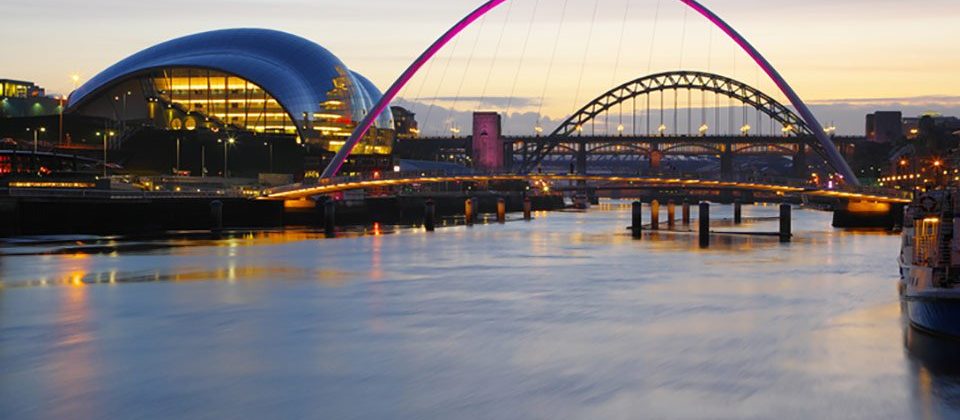 15 reasons to date a Geordie
True Geordie lads and lasses make great dates. Here are just 15 of the reasons why you should date a Geordie, from their canny chat to their moreish scran
1. You won't struggle to chat
True Geordies have the gift of the gab. They're brought up to chat to anyone and everyone, from the woman at the bus stop to the man at the chippy. You'll never have to deal with an awkward silence when you're on a date with a Geordie – they're loud, proud and always ready with a cheeky comeback!
2. You'll learn a whole new language
There's nothing quite like Geordie slang. As dialects go, it's one of the most distinctive. In need of a few pointers? If you're excited (or exasperated), throw out an 'Howay man!' Swap yes for 'wey aye' and describe anything you like the look of as 'candatingny'.
3. They'll never make you go to Sunderland
The rivalry between Newcastle and Sunderland is legendary – especially when football's involved. Most Geordies will have a few friends who are Mackems but why would you bother going to visit them? Everything's better in the Toon, pet!
4. You'll always be free on match days
Newcastle bleeds black and white so if you're not a football fan, prepare to enjoy some alone time when the season kicks off. Don't worry; you can still get involved in the pre-game drinks and scran, even if you don't know your offside rule from your one touch pass.
5. They have the best accents
The Geordie accent is regularly voted one of the UK's sexiest. Think Cheryl Tweedy or Sting whispering sweet nothings to you. But don't make the mistake of thinking all Geordies sound the same. The Geordie accent is nothing like the Mackem, and residents of Durham and Middlesbrough have a distinctive twang too.
6. You'll always know where you stand
Geordies speak their minds and don't have time to be indirect. Their 'tell it how it is' approach might take some getting used to but you'll always know what they really think. No need to play guessing games when you date a Geordie.
7. They'll take you on a date to the Quayside
Why wouldn't you want to pay a visit to the Quayside? This revamped industrial area on the banks of the River Tyne is home to a whole host of bars and restaurants, as well as the Millennium Bridge and BALTIC. Our top tip? Check out Gusto for high-end Italian cuisine.
8. They're big softies at heart
One word: Gazza. Who could forget the football legend breaking down in tears at the 1990 World Cup? Just like Paul Gascoigne, Geordies are softies at heart and aren't afraid to get emotional.
9. They'll introduce you to the local delicacies
Not only is Newcastle the home of Greggs, it also boasts culinary delights like chips and gravy and Pease Pudding (a type of savouring boiled pudding). And don't forget to wash it all down with a pint of Newcastle Brown Ale.
10. They have excellent music taste
Some of the UK's best bands have their roots in Newcastle. Think Maximo Park, The Animals, the Pet Shop Boys and the Lighthouse Family – there's something for everyone!
11. They know how to have a good time
Newcastle is well-known for its nightlife. There's a bar, pub or club to suit every taste. Whether you're looking for a quiet pint or a big night out, you won't be disappointed. Head to the Bigg Market – it's home to over 20 bars with late night licences, so the party won't stop before you do!
12. But Geordie Shore isn't real life
MTV's Geordie Shore might be a guilty pleasure but true Geordies don't spend their lives 'tashing on', tanning, and falling out of clubs in the Bigg Market. Take what you see with a pinch of salt and don't expect every Geordie to be a Gaz or Charlotte wannabe.
13. They can brace the cold
It's a cliché but it's also true – if you date a Geordie, you're unlikely to ever see your other half in a coat. Geordies are made of strong stuff and they don't feel the cold like southerners do. It's T-shirt season year-round in the Toon!
14. They don't take themselves too seriously
Geordies will be the first to confess their faults – especially if they can turn them into a joke. It's no coincidence that some of the UK's best comedians hail from Newcastle. Ross Noble, Ant and Dec, Chris Ramsey, Sarah Millican (even if she is from South Shields…) to name just a few!
15. Date a Geordie and you'll never have a dull date
Newcastle dating is never dull. There's so much to do that, when you date a Geordie, you're guaranteed a great date. The BALTIC Centre for Contemporary Art is known for its cutting-edge exhibitions, The Biscuit Factory showcases independent craft, art and design, and Newcastle Castle is one of the city's most historic sites.