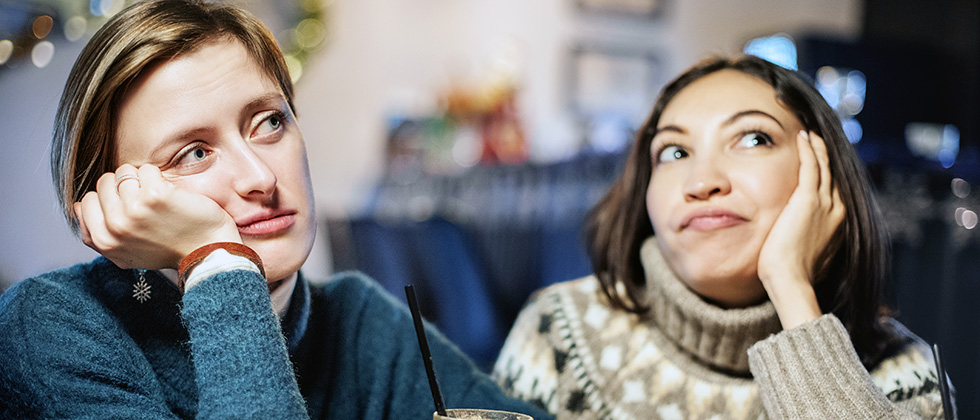 Why a bad first date doesn't have to mean the end
Anticipation is a wonderful thing, especially when it comes to dating, but what if that first date falls short of your expectations? Does it necessarily mean the end?
Whether you have communicated a lot or a little prior to meeting a match you will have built a mental picture of them based on their profile and whatever communication you have had. The natural human response to a new situation is to try and anticipate what it is going to be like and this is no truer then when it comes to dating. It is these expectations we build that can lead to the first date being something of a let down because rarely does reality live up to the colourful world of our fantasies. Even if things don't go well on the initial meeting it does not necessarily mean there is no hope for a relationship. Here are some of the common problems that can occur.
Your date doesn't look like their photo
Even though we might like to think that we are more evolved we all make assumptions based on our first impression of someone. When you have only seen a photo the real life version of someone can be quite a shock. This is because a photo is a static moment in time and often quite unnatural if the person is posing for the camera. A photo is also in the past so even if it was only the recent past then the person may well have changed in some respect as we all do over time. Naturally people choose their most flattering photographs for their profile but of course they don't look their studio best 24/7. Add in mannerisms and facial expressions and it is obvious that no-one really looks like a photo all the time.
If you have experienced this kind of disappointment repeatedly it might be a good idea to try talking on Skype before you decide whether you want to meet in person – that way you will have seen a fully animated version of the person and be able to decide if you are attracted to them.
If this hasn't been possible and you go on a date and experience disappointment when you see your match – unless you feel they have deliberately misguided or deceived you – try to put your feelings to one side for the duration of the date and really see them as they are rather than comparing them to the image you had of what they would look like.
Nerves
Often first dates are difficult because one or both people are overcome with nerves. This can make you feel self-conscious and awkward and prevent the conversation from flowing instead it may seem stilted and false.
Whether it is you or your date – or both of you – that is nervous, the awkwardness it creates can make you want to flee and never repeat the experience. Again this is because of false expectations – you somehow believe that if you were meant for each other it should be easy and comfortable immediately. This is rarely the case. Essentially you are strangers and things might be awkward between you while you get to know each others boundaries – if you expect this on a first date you will be more accepting and also more inclined to go onto a second date because you know that over time things will get easier. Six dates will give you both a chance to get over any nerves and place you in a position to decide realistically if you want to take it any further.
What went wrong was nobody's fault
Sometimes first dates go horribly wrong because of circumstances beyond our control: trains were delayed so your date was late; it rained when you were meant to have a picnic; the food in the restaurant was horrible or one of you got sick. Anything could happen. The key here is to not write your match off because the date was a write off. It isn't a sign that you are not meant to be together, it is just an aspect of the unpredictability of life which we all have to adjust to. How you and your date respond to adversity will be much more telling than if you only have perfect dates where nothing goes wrong.
It is always better to give someone a second chance than to be left wondering if you have let something special slip away because of fear, nerves or preconceived ideas of how everything should be rather than accepting the wonderful mystery that life is.