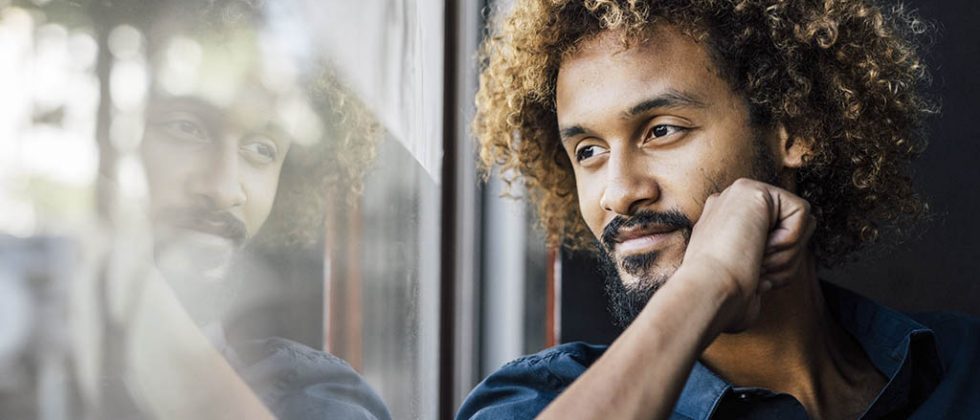 What single men want most: real love over casual encounters
eharmony and Relate's new report on men and dating shows that in a post-pandemic world, love is back on the menu.
One of the complaints the experts at eharmony regularly hear from women about men on dating apps, is that they're only looking for one thing (and it's not love!).
And, while our platform which specialises in compatibility matching, is designed for deeper connections, there are certainly lots of apps which encourage swift romantic encounters.
Furthermore, the idea that most men are simply out to have no-strings fun is further corroborated by a culture of dick pics, superficial messages and ghosting across the industry.
But, new research by eharmony and the counselling charity Relate, shows a more optimistic view of male behaviour and intentions.
Love's the word
We collectively polled around 2,000 British men to get to the heart of what they're looking for and how they feel in the post pandemic dating world.
The survey indicated that one in five single men (20%) are looking for real love, compared to just one in 10 (11%) looking for no-strings sex.
"Men are traditionally thought of as seeking sex, not relationships. I think this is changing and I'm seeing more men looking for relationships, but some aren't sure how to go about making it happen," said Relate Counsellor Peter Saddington.
Fear of rejection
Our research also showed that men share many of the same insecurities around dating and relationships as women.
Indeed, more than half of men (60%) have felt insecure when it comes to dating, with fear of rejection and concerns about their appearance and age all posing challenges.
Further factors driving dating insecurities for men include prior bad experiences (19%), plus the perception that they're 'out of practice' after coming out of a long-term relationship (13%).
On a brighter note, when asked what qualities are the most important in a romantic partner, the top three responses from men were honesty (47%), being trustworthy (47%) and having a good sense of humour (42%).
Men and communication
One of the biggest challenges for men on the romantic front is learning to communicate about their insecurities. The research shows only one in five men (20%) feel comfortable showing vulnerability in a relationship, which seems dramatically out of steps with modern 'reveal all' culture.
Similarly, only one in five men (20%) can talk openly to their partner with just 17% feeling able to talk openly to friends and family about how they're feeling. This seems incredibly low, and suggests many men are struggling with profound emotional issues in isolation.
Relate counsellor Peter Saddington adds: "I find that men often do want to talk to their partners and discuss their problems, they just don't know how to start the conversation and make it actually happen."
Inherited traits and behaviours
One factor that's thought to be contributing to men's reluctance to get emotionally vulnerable is the persistent shadow of patriarchal conditioning.
Like it or not, most of us learn how to navigate (or not navigate) relationships by witnessing our parents' relationship styles growing up. We absorb these behaviours like sponges and are often totally unaware of the core values wired in along the way.
So, if a male grew up hearing stereotypical messages like 'boys don't cry' 'be a brave boy' and 'man up' they're more likely to struggle with romantic intimacy which requires a level of vulnerability.
Relate Counsellor Josh Smith certainly observes this pattern in his practice rooms."I see many clients repeating the patterns set by their parents, who in turn were influenced by their parents. So, despite often ascribing to modern values around gender equality and the division of labour, men in particular often find themselves falling back into the patriarchal behaviours that they observed as children. This creates unhappiness within intimate relationships, especially for women, because expectations aren't met by reality."
The Impact of #MeToo
Finally, our report strove to cast a light on the extent to which men have been influenced by the #MeToo movement. The results show that four in ten men (39%) says it's affected their approach to dating, rising to almost two thirds of of 25-34 year olds. A tenth feels ashamed about how they previously treated women (10%). Despite these realisations there's still some way to go – almost a quarter (24%) of men said they had not really heard of the #MeToo movement and more than one in ten (11%) think #MeToo is exaggerated.

"Sexual abuse and harassment is never acceptable and the damage caused by this is something we regularly see in counselling sessions," comments Relate counsellor Josh Smith. "Whilst four in ten men across all age groups report having changed their behaviour as a result of #MeToo, it is encouraging that the number is higher amongst younger men surveyed."
How it works
Your search for a great relationship has never been easier with groundbreaking overhaul of the eharmony you know and trust.