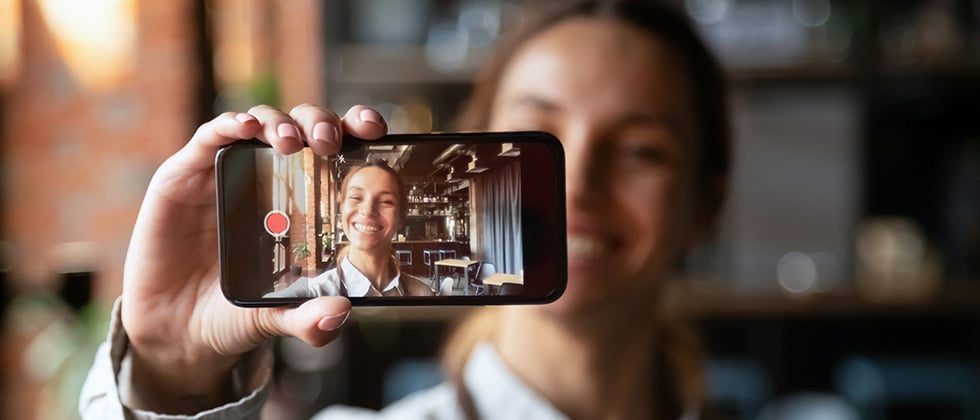 Everything you need to know about the new eharmony
Welcome to the new eharmony! We've just launched a groundbreaking overhaul of our apps and website, introducing a range of new features designed to give you the best possible experience in your search for lasting love.
We've kept all the best bits from the eharmony you know and love but, as well as a fresh new look, there's a raft of improvements we hope you'll love. On the new eharmony you can now:
See all the highest quality matches in your inbox, starting from day one
Test how you measure up with each of your matches with our unique Compatibility Wheel
With our new scoring system, receive a compatibility score for each and every match
Confidently get in touch with your matches with our icebreakers and all-new messaging platform
Whether you're an existing member or are using eharmony for the first time, here's everything you need to know in order to get the most from your membership.
Step 1 – Sign up
Signing up for eharmony is free and couldn't be easier. Simply visit our home page or download the eharmony app for iOS and Android on your phone or tablet. Fill in a few simple details, then dive straight into our Compatibility Quiz – your first steps towards finding that perfect match.
Step 2 – The Compatibility Quiz
What is it?
Finding your ideal partner doesn't happen by magic. Our unique Compatibility Matching System measures you at the deepest levels of your personality and to do that we need to know a lot about you: how you interact with the world, how you communicate with others, how you deal with conflict and the influences that shaped your childhood. To do this we ask you a series of questions, designed by psychologists and relationship experts, and based on over 20 years of research into the science of lasting love.
How does it work?
eharmony measures you on 32 dimensions of compatibility. Based on your answers to the Compatibility Quiz, we build your unique Personality Profile, which is the basis for how we match you with other members.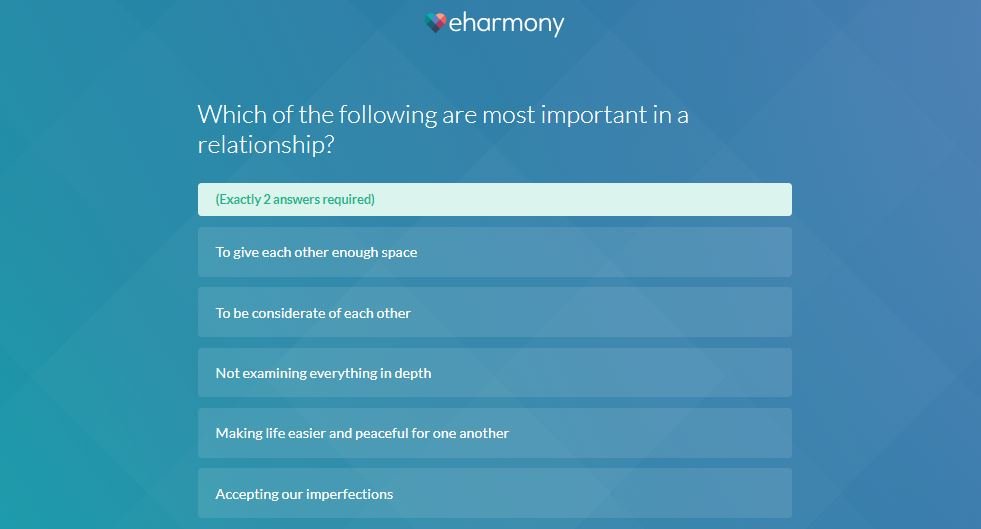 How long does it take?
The Compatibility Quiz takes about 25 minutes to complete. It's really worth doing it in one go, in a quiet place without distractions – many of the questions rely on your instinctive answers, so don't overthink the questions and just go with the answer that feels closest to your feelings.
Step 3 – Complete your profile
Once you've completed the Compatibility Quiz, we just need a few more basic details to complete your profile – but these will not necessarily be visible to your matches. We need your name, age, occupation etc, but also how tall you are and what your level of education is.
Then we'll ask you up upload at least one picture of yourself. Before you do that, it's worth taking a look at our guide to getting the best from your profile pictures – these are vital to giving the best possible impression to your matches.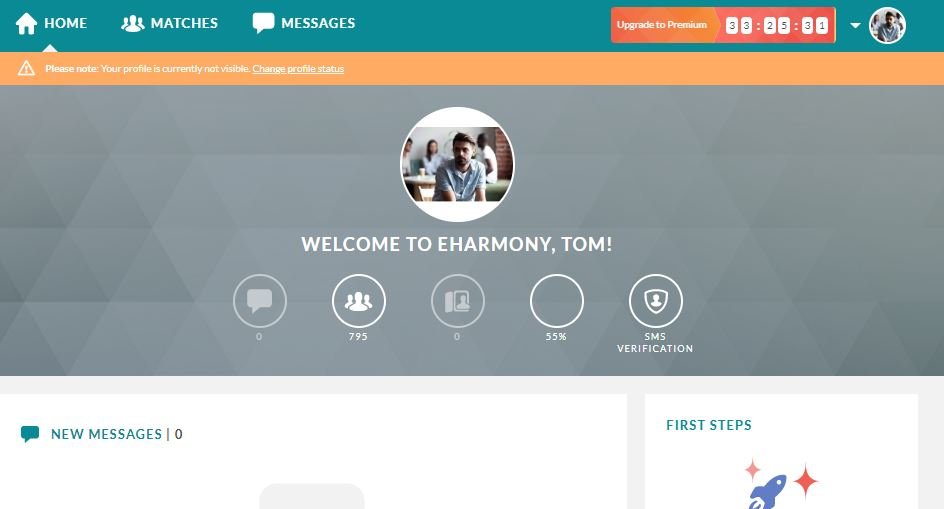 Next, we'll ask you to fill out a couple of questions about yourself that will appear on your profile, visible to your matches. Also, you can tell us a little about yourself in your own words and what you're looking for in a partner.
Once these steps are completed, you're now an eharmony member and you can view your first set of matches.
Step 4 – Choose your subscription plan
Although you can sign up for free, to communicate with your matches and enjoy the full benefits of the new eharmony, you'll need a subscription. We have a range of plans to suit different needs and budgets, so choose the one that's right for you.
Step 5 – Check out your personality profile
Now you can see the results of the Compatibility Quiz, and the kind of person you've told us you are. By clicking on the profile picture icon, you can also add to or edit your personality profile, or add more pictures. Ideally, an effective profile will contain at least five pictures, but do make sure they're not too similar.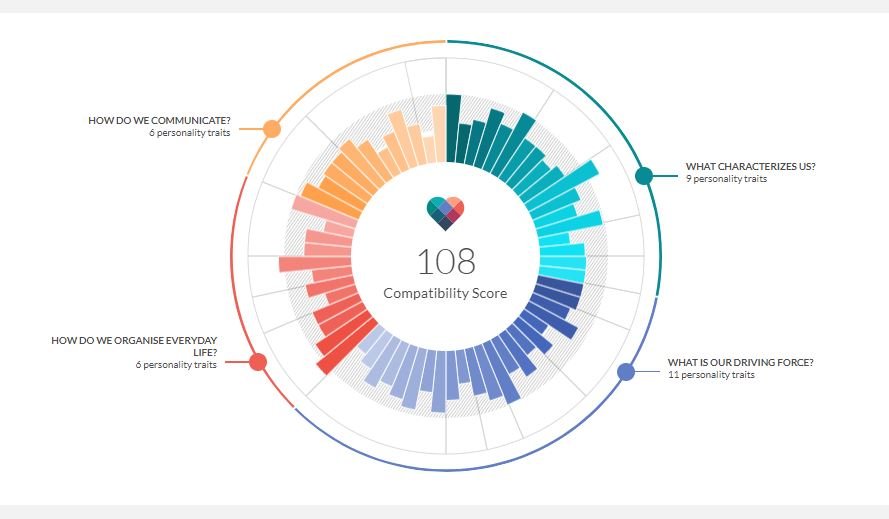 Your quiz results appear on our Compatibility Wheel and you can also see your scores for each of our variables measuring the fundamentals of your personality.
Step 6 – Learn more about your matches
Now for the exciting part: your matches. Unlike previous versions of eharmony, where we delivered you a daily set of matches, you can now see all of your matches, all at once.
If you like the look of someone, check out your mutual compatibility score and how they measure up with you on the Compatibility Wheel. Premium members can also view their profile for an in-depth look at their likes and dislikes.
Step 7 – Communicating with your matches
Are you ready to take the first step towards a hot date? Then get in touch with a match.
If you want to take it slowly, you can start by just sending a smile.
Alternatively, send them an icebreaker. These are designed by eharmony to stimulate conversation between two matches: you'll be asked to choose between a series of related twin mages, as will your match, as a way of teasing out what you have in common.
If that goes well, Premium Members can go straight to the messaging system and chat directly.
Safety tips
Your safety while using eharmony is our highest priority. We want you to have the best possible experience but, like all dating sites, policing the behaviour of each of our individual members is a difficult task. So just follow this simple guide to staying safe while using our service.
Contact us
eharmony customer service is available 24/7, 365 days a year through our website or via the iOS or Android apps.