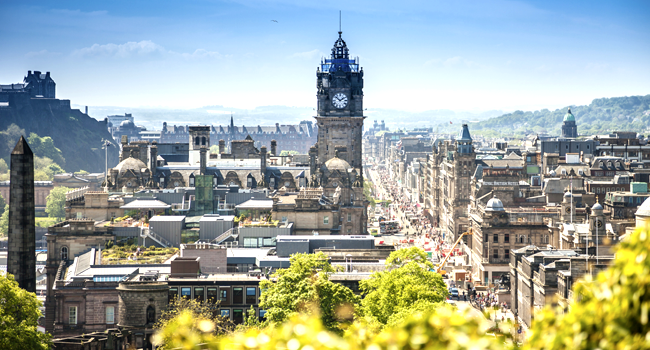 10 amazing first dates you need to go on in Edinburgh
Don't let dull dates get in the way of romance. Edinburgh singles, it's time to get awesome with your first date ideas
1. Sunrise atop an extinct volcano
Sunset dates are pretty standard. Instead arrange to meet your date before sunrise at the foot Arthur's Seat. Climb to the top then get to know each other as you watch the sun climb skywards. The romantic views as the early morning light spreads across the city might just ignite that spark.
2. Whose lunch is it anyway?
Forget a dinner date. Opt instead for a laughter filled lunch at The Stand – one of Edinburgh's premium comedy venues. Let resident duo Stu and Garry entertain you with their improvised show as you tuck into lunch. A great ice breaker and sense of humour compatibility checker.
3. A Scotch whisky experience
Why go for a simple drink in a bar when you can take a New Scotch Whisky Experience Tour and ride a swirling barrel through a replica distillery? Afterwards, enjoy a dram – Scotch Malt Whisky, Shaun Connery style. This date certainly won't be on the rocks.
4. Meet a malevolent poltergeist
A far (and bloodcurdling) cry from the usual first date, Edinburgh's City of the Dead Tours will have you holding tight to your date's arm as the horrors unfold. Warning: watch out for the South Bridge Entity down Damnation Alley and the Black Mausoleum's world famous Mackenzie Poltergeist.
5. Catch a vibrant Voodoo show
Take in a show with a difference at The Voodoo Rooms. An award winning restaurant and bar, it also plays hosts to a variety of alternative variety nights. Join a Viking party, watch a Las Vegas cabaret or enjoy an evening of the blues – but not the dating blues.
6. Get blown away at Portobello
Don't just stroll along Portobello Beach, fly kites upon it. As your strings intertwine, hopefully your hearts won't be far behind. Afterwards you can head to the traditional amusement arcade or, if you're not body shy, the Turkish Baths.
7. Enter a world of illusions
For a fresh perspective on a first date – literally –head to Camera Obscura and the World of Illusions. Swap heads, paint with light, paddle in a virtual fishtank and see live moving images of Edinburgh projected onto a viewing table through a giant periscope.
8. Tea and cake on a canal boat
A unique take on a coffee date, bring your bikes and go for a scenic cycle along the canal. Destination, Zazou Narrowboat Cafe (moored near Harrison Park). Enjoy tea and cake in the quaint and cosy surroundings as you share stories.
9. Snuggle up on a cinema sofa
Movie dates have stood the test of time, but why not do it in style? The independent art deco Dominion Cinema offers the best seats (well, actually plush comfy sofas and reclining chairs) in town. Snuggle up with your date and a glass of wine as you watch a good flick.
10. Be festival goers
Time your date right and make your first date a festival date. With so many going on in the city, year round, you're bound to find one that fits. Like music? Try the Jazz and Blues Festival. Art and culture lovers? Nothing beats the Edinburgh Fringe. The stage is set for romance.