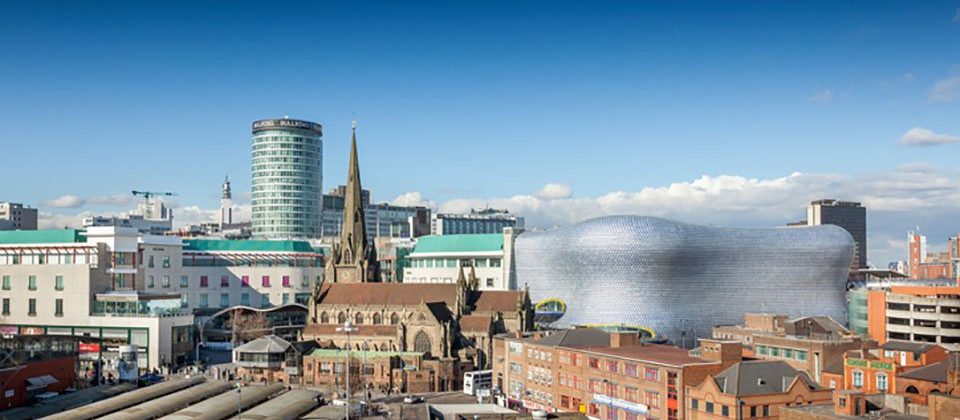 7 of the best first date venues in Birmingham
Whether you're looking for fine dining or a casual cocktail bar, Birmingham is one of the best places in the UK for a date. Here are 7 of our favourite first date venues in the city
Everyman Cinema
Now, we wouldn't usually recommend heading to the cinema for a first date – you're meant to be getting to know each other, after all – but we had to make an exception for Birmingham's Everyman. This boutique cinema elevates dinner and a movie into something extra-special. You and your date can get cosy on the sofa seating and enjoy one of the latest Hollywood blockbusters. The bar menu offers everything you might crave during a crime thriller while the drinks cabinet is extensive. We recommend arriving at least an hour ahead of your film to make sure you have enough time to talk movies over a Mojito before sitting down.
Everyman Cinema, 116 Wharfside Street, The Mailbox, Birmingham B1 1RF, +44 (0)871 906 9060, everymancinema.com
The Edgbaston
With its unrivalled service and elegant interior, the Edgbaston is a great first date pick if you're out to impress. A boutique hotel with an award-winning cocktail lounge, the Edgbaston creates classic cocktails using the finest spirits and fresh ingredients. Choose a table in the black and gold Art Deco lounge and you can work your way through a menu that ranges from afternoon tea to hummus and pita bread. Every drink is perfectly served but why not experiment with the house cocktail, inspired by the Botanical Gardens? It's a fragrant mix of rose Champagne, white sugar and botanical garden aromatics. If you're teetotal, be sure to try a cup of coffee by local independent roaster Quarter Horse.
The Edgbaston, 18 Highfield Road, Edgbaston, B15 3DU, +44 (0)121 454 5212, theedgebaston.co.uk
Aluna
If you and your date are up for an adventure, take your taste buds on a trip to Aluna. With its eclectic interior and vast menu of molecular cocktails, this isn't your average evening hotspot. There's food too; a tempting selection of Asian and European inspired dishes that range from chicken satay to wild mushroom tagliatelle. You'll need time to explore the cocktail menu. And when it comes to picking a favourite we're torn. The smoky Kentucky Negroni and the Marshmallow Daiquiri (a mix of vodka and vanilla liqueur with a toasted marshmallow crust) are just two of the highlights.
Aluna, 128-130 The Mailbox, Wharfside Street, Birmingham B1 1RQ, +44 (0)121 633 9987, aluna.uk.com
The Stable
Feeling at ease on a first date is one of the best ways to guarantee its success. The Stable in Birmingham is the perfect place to enjoy a relaxed evening. With 80 varieties of cider and sourdough base pizzas on offer, you'll be spoiled for choice. The Bournville Bantam caught our eye thanks to its toppings of free-range chicken, roasted red peppers, field mushrooms, homemade tomato sauce and mozzarella. The restaurant itself has a laidback feel and stylish interior with outdoor seating on sunnier days. Visit in the evening and you're virtually guaranteed to be treated to a live music performance that's sure to help your night go off with a bang!
The Stable, Unit 1 Orion, 115 John Bright Street, Birmingham B1 1BE, +44 (0)1216 438918, stablepizza.com
Ikon Gallery
Art galleries always make great date venues. They give you plenty of time to talk – and lots to talk about – without the potential awkwardness of a face-to-face dinner. The Ikon is an internationally-acclaimed contemporary art gallery housed in a neo-gothic school building. There are no permanent exhibitions, but artists from around the world descend on the gallery to show works, which range from film, photography and paintings to sculpture and sound installations. If you and your date are art enthusiasts, make sure you check out the talks, tours and workshops on offer. Don't leave without debating the show over a cup of locally-roasted coffee in the on-site café.
Ikon Gallery, 1 Oozells Square, Brindleyplace, Birmingham B1 2HS, +44 (0)121 248 0708, ikon-gallery.org
Birmingham Botanical Gardens
Take a stroll around Birmingham's Botanical Gardens and your first date will be off to a blooming start. The gardens cover 15 acres of landscaped greenery and offer an oasis of peace and tranquillity, just minutes from the city centre. Whatever the weather, there's something for everyone. On a sunny day, wander through the gardens, admiring the 7000 plants but on rainier days, take shelter in one of the four glasshouses. There are tropical, subtropical, Mediterranean and arid houses to choose from – each sure to get temperatures rising!
Birmingham Botanical Gardens, Westbourne Road, Edgbaston, Birmingham B15 3TR, +44 (0)121 454 1860, birminghambotanicalgardens.org.uk
Brad Carter, Chef/Proprietor of Carters of Moseley
Carters of Moseley
If you're really looking to impress on a first date, look no further than Carters of Moseley. This Michelin-starred restaurant is surprisingly affordable and offers the kind of show-stopping food that'll satisfy even the most demanding of dates. The kitchen prides itself on using seasonal ingredients to create light, modern dishes with clean flavours – there's no relying on heavy cream and butter in this restaurant. The menu changes regularly but you can expect to be feasting on the likes of Pine Mushroom Porridge, Mackerel with Yorkshire Rhubarb and Tokyo Turnip, and Blood Orange Cheesecake.
Carters of Moseley, 2C Wake Green Road, Moseley, Birmingham B13 9EZ, +44 (0)121 449 8885, cartersofmoseley.co.uk