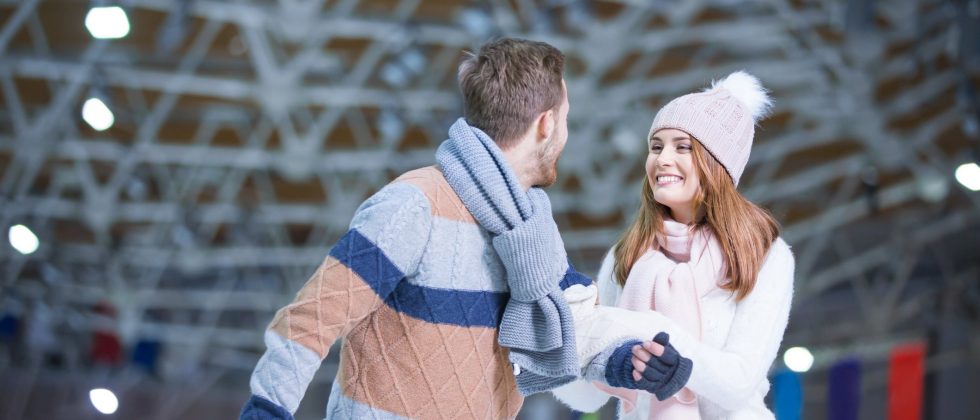 50 great date ideas: London
London date ideas don't get better than this! The city is one of the best places in the world to date – there's something on offer for every taste and budget imaginable. Theresa Harold reveals the top 50 date ideas: London
1. Journey into the unknown at Four Thieves
Featuring the UK's first and only dedicated virtual reality gaming installation, Four Thieves pub is so much more than just a watering hole.
Four Thieves, 51 Lavender Gardens, London SW11 1DJ, 020 7223 6927, fourthieves.pub
2. Get crafty at Drink, Shop & Do
Whether you opt for a craft class or just fancy a drink at the retro-chic bar, Drink, Shop & Do has you covered.
Drink, Shop & Do, 9 Caledonian Rd, Kings Cross, London N1 9DX, 020 7278 4335, drinkshopdo.co.uk
3. Get your blood pumping at The Power of Boxing
A boxing class might not seem like one of the most romantic things to do in London, but the endorphin high is second to none.
 The Power of Boxing, The Arches, 180 Lambeth Road, London SE1 7JY, powerofboxing.com
4. Take tea at Bun House & Tea Room
If you like your dining options casual but stylish, this 1960s Hong Kong-inspired street café is just the ticket.
Bun House & Tea Room, 23 Greek Street, W1D 4DZ, 020 8017 9888, bun.house
5. Splash out at Brockwell Lido
On a sunny day, with the potted palm trees swaying and the blue water glistening, Brockwell Lido is a miniature Côte d'Azur. Almost.
Brockwell Lido, Dulwich Rd, London SE24 0PA, 020 7274 3088, brockwelllido.com
6. Find a literary love at The London Library
One of the world's largest independent lending libraries, The London Library hosts free guided tours on weekday evenings, making this every bibliophile's dream date.
The London Library, 14 St James's Square, London SW1Y 4LG, 020 7766 4745, londonlibrary.co.uk
7. Get creative at Wonderland Ceramics
There's something a bit silly and a bit nostalgic about painting pottery, which makes it a great option for a date.
Wonderland Ceramics, 237 Victoria Park Road, Hackney, London E9 7HD, 020 8985 1214, wonderlandceramics.com
8. Raise a toast at SACK Bar
Sherry bar SACK sits above a whisky bar and beneath a cocktail bar. And if things are going really well, The Napoleon hotel is on the top floor…
SACK Bar, 9 Christopher Street, London EC2A 2BS, 020 3246 0045, sack.bar
9. Spend an evening at Shanghai Supper Club
For fun dates in London, a supper club is a cosy and quirky way to spend an evening. Plus, there's no washing up involved.
Shanghai Supper Club, The Joker, 58 Penton Street, London N1 9PZ, shanghaisupper.co.uk
10. Grab a Parisian-style bite to eat at Petit Pois Bistro
This classic French bistro is as unpretentious as it is delicious — and it's just small enough to feel like a secret.
Petit Pois Bistro, 9 Hoxton Square, London N1 6NU, 020 7613 3689, petitpoisbistro.com
11. Indulge your senses at Sager + Wilde
Cheese toasties and wine – is there a better combination? Seduce your date with hot, gooey, cheesy goodness.
Sager + Wilde, 193 Hackney Road, London E2 8JL, 020 8127 7330, sagerandwilde.com
12. Dine al fresco at Maltby Street Market
Whether you're a foodie or not, a trip to Maltby Street Market will have you waxing lyrical about London's street food scene.
Maltby Street Market, Ropewalk, Maltby Street, London SE1 3PA, maltby.st
13. Play a round at Swingers
There's nothing like a round of crazy golf to break the ice, and Swingers have nailed the 'kitsch but ironic' vibe perfectly.
Swingers, 8 Brown's Buildings, London EC3A 8AL, swingersldn.com
14. Stretch it out at Flow in the Dark Yoga
The Wellscene hosts Flow in the Dark yoga at secret locations in London, which makes for a fun – if slightly sweaty – date night.
Flow in the Dark Yoga, various locations, thewellscene.club
15. Get cosy at Counter Culture
This tiny 15-seater eatery in SW4 has a BYOB policy and a menu to rival its big brother next door, The Dairy.
Counter Culture, 16 The Pavement, Clapham Old Town, 020 8191 7960, countercultureclapham.co.uk
16. Let love bloom at Battersea Flower Station
If you like your date ideas London Instagram-standard, then this colourful garden centre should go straight to the top of your list.
Battersea Flower Station, 16 Winders Road, London SW11 3HE, 020 7978 4253, batterseaflowerstation
17. Trip the light fantastic at Gods Own Junkyard
Forget snooty art galleries and airless museums, a visit to God's Own Junkyard makes for a far more memorable London date idea.
Gods Own Junkyard, Unit 12 Ravenswood Ind Estate, Shernhall Street, London E17 9HQ, godsownjunkyard.co.uk
18. Try your hand with the hops at UBREW
Whether you're a fully hopped-up member of the craft beer revolution or just curious, making your own beer at UBREW is ridiculously fun.
UBREW, 24 Old Jamaica Road, London SE16 4AW, 020 3172 6089, ubrew.cc
19. Get down and dirty at Vauxhall City Farm
If your date's idea of a perfect afternoon is feeding llamas or cuddling guinea pigs, then Vauxhall City Farm has your back.
Vauxhall City Farm, 165 Tyers Street, London SE11 5HS, 020 7582 4204, vauxhallcityfarm.org
20. Lay down some rhymes at Hip Hop Karaoke
Find out whether their professed love of The Notorious B.I.G. was legit by challenging your date to a rap-off at Hip Hop Karaoke.
Hip Hop Karaoke, various venues, hiphopkaraoke.co.uk
21. Cheese lovers delight at La Fromagerie
Friday nights at this highly acclaimed cheese shop, deli and restaurant mean one thing and one thing only: fondue.
La Fromagerie, 2-6 Moxon Street, London W1U 4EW, 020 7935 0341, lafromagerie.co.uk
22. Reach great heights at The Castle Climbing Centre
Even if indoor climbing isn't your thing, this Victorian former pumping station makes for a pretty spectacular date location.
The Castle Climbing Centre, Green Lanes, Stoke Newington, London N4 2HA, 020 8211 7000, castle-climbing.co.uk
23. Plan your escape at Archimedes Inspiration
Fancy being locked in a room with your date? Well, maybe take your time solving these escape room clues then…
Archimedes Inspiration, Unit 002, Block K, Tower Bridge Business Complex, 100 Clements Road, SE16 4DG, London, 07544152953, aiescape.com
24. Dress up for a night at Bourne and Hollingsworth Buildings
Date night in London doesn't come much more stylish than the Bourne and Hollingsworth Buildings, with its impressive decor and killer cocktails.
Bourne and Hollingsworth Buildings, 42 Northampton Rd, Clerkenwell, London EC1R 0HU, 020 3174 1156, bandhbuildings.com
25. Enjoy a cocktail masterclass at Super Lyan
For quality drinks at a decent price, it doesn't get much better than this basement bar by Ryan Chetiyawardana AKA the World's Best Bartender.
Super Lyan, 155 Hoxton St, London N1 6PJ, 020 3011 1153, superlyan.com
26. Jump for joy at Oxygen Freejumping Action
Bouncing around on a trampoline is never going to be the most dignified of dates. But, boy is it fun.
Oxygen Freejumping Action, 15 Vision Industrial Park, Kendal Avenue, London W3 0AF, 020 3846 1386, oxygenfreejumping.co.uk
27. Venture into the basement at Blacklock
Located in a former madam's basement in Soho, this restaurant and bar serves up seared meat chops and cocktails from trolley carts.
Blacklock, 24 Great Windmill St, Soho, London W1D 7LG, 020 3441 6996, theblacklock.com
28. Beat the house at Bogan Bingo
Warning: not for the prudish, the self-conscious, or the easily offended. Bogan Bingo is a bingo night with a boozy, Antipodean twist.
Bogan Bingo, various venues, boganbingo.co.uk
29. Start game-playing at Draughts
With over 500 board games to play with and buy, Draughts is London's first board game café and bar.
Draughts, 337 Acton Mews, Hackney, London E8 4EA, 020 7254 1572, draughtslondon.com
30. Try a new tipple at London Cru Urban Winery
A winery? In London? Yes, and its relaxed and entertaining tour makes for one of the best dates in London.
London Cru, 21-27 Seagrave Road, London SW6 1RP, 0207 381 7871, londoncru.co.uk
31. Decode your date at The Bletchley
Get your thinking caps on if you want to have a drink at this cocktail bar inspired by Alan Turing and Sherlock Holmes.
The Bletchley, Back door, 459 King's Road, London SW10 0LJ, 020 3488 1678, thebletchley.co.uk
32. Step back in time at Evans & Peel Detective Agency
This speakeasy bar and restaurant in Earl's Court offers a fun, 1920s prohibition-era drinking and dining experience.
Evans & Peel Detective Agency, 310c Earls Ct Rd, Kensington, London SW5 9BA, 020 7373 3573, evansandpeel.com
33. Get your dancing shoes on and head to The Lexington
If you like live music and good whiskey, then you'll love The Lexington. Check ahead to find out who's playing on your date night in London.
The Lexington, 96-98 Pentonville Rd, London N1 9JB, 020 7837 5371, thelexington.co.uk
34. Get chills at The London Ghost Bus Tour
Pun lovers, rejoice! The London Ghost Bus Tour will take you deep in London's darkest corners and reveal the city's most horrible history – it's not one for the faint-hearted.
The London Ghost Bus Tour, starts at Northumberland Avenue, 0844 567 8666, theghostbustours.com
35. Float on down to Tamesis Dock
This colourful converted 1930s Dutch barge is a floating pub moored permanently between Lambeth and Vauxhall Bridge. You can't miss it.
Tamesis Dock, Albert Embankment, Lambeth, London SE1 7TP, 020 7582 1066, tdock.co.uk
36. Check out the slopes at Chel-Ski
If a ski holiday is a little beyond your budget, then Chel-Ski in Chelsea still offers the après-ski experience at its Alpine bar.
Chel-Ski, 4 Sotheron Place, Michael Road, London SW6 2EJ, 020 3829 6961, chel-ski.uk
37. Head underground at The Vaults
Located off the famously-graffitied Leake Street, The Vaults is a subterranean art space with an ever-changing events calendar.
The Vaults, Leake Street, London SE1 7NN, 0207 401 9603, thevaults.london
38. Take a stroll round the stalls at Druid Street Market
A short stroll from Maltby Street Market, Druid Street Market serves up an array of fresh produce, artisan goods and street food.
Druid Street Market, Druid Street, Bermondsey, London SE1 2HH, druid.st
39. Get your creative juices flowing at Paint Jam London
Get your creative juices flowing with a session of 'paint jamming'. Much like its musical equivalent, the emphasis is on experimentation rather than perfection.
Paint Jam London, 1st Floor, 7 Denmark Street, Soho, London WC2H 8LZ, 07956 889634 paintjamlondon.co.uk
40. Find something special at Forage London
It might not be on the usual list of romantic things to do in London, but a guided foraging walk is both fun and informative.
Forage London, foragelondon.co.uk
41. Try Spanish-style dining at Clarette
Serving up fine wines and tapas-style sharing plates, Clarette is the perfect pre-dinner drinks spot conveniently located near Chiltern Firehouse.
Clarette, 44 Blandford St, Marylebone, London W1U 7HS, 020 3019 7750, clarettelondon.com
42. Raise a glass at the Humble Grape
Wine lovers will be in their element at this easygoing restaurant and bar. The staff are friendly and knowledgeable, while the wines speak for themselves.
Humble Grape, 2 Battersea Rise, London SW11 1ED, 020 3620 2202, humblegrape.co.uk
43. Carve out your future at Grain & Knot
There was a time when carving a wooden spoon on a date would be a sign that things had gone drastically wrong. Not so at a Grain & Knot workshop!
Grain & Knot, various locations, grainandknot.com
44. Go over to the dark side at Dans Le Noir
At Dans Le Noir, diners eat in the dark served by blind waiters. Just make sure your companion doesn't take offence at a date without lights.
Dans Le Noir, 30-31 Clerkenwell Green, Clerkenwell, London EC1R 0DU, 020 7253 1100, london.danslenoir.com
45. Have a listening party at The Sound Lounge
This independent music and arts venue, which also houses a bar and vegetarian cafe, is a laid-back date option.
The Sound Lounge, 210-212 Upper Tooting Road, London SW17 7EW, 020 8543 9555, thesoundlounge.org.uk
46. Look out for Heisenberg at ABQ London
As themed bars go, this Breaking Bad-inspired venue takes the prize for sheer dedication and commitment to detail.
ABQ London, 455 Hackney Rd, London E2 9DY, 020 3488 1678, abqlondon.com
47. Find your target at Flight Club
Flight Club has managed to do the seemingly impossible: make darts cool. This Shoreditch bar even comes with an automatic score-keeping system.
Flight Club Shoreditch, 2A Worship Street, London EC2A 2AH, 020 3019 3093, flightclubdarts.com
48. Take a tour of Dennis Severs' House
A tour of Dennis Severs' House is the closest we've got to time travel in London, and frankly, it's extraordinary.
Dennis Severs' House, 18 Folgate St, London E1 6BX, 020 7247 4013, dennissevershouse.co.uk
49. Reach for the top at Vertical Chill
If you really want to make an impression, take your date ice climbing at Vertical Chill in London. Yes, it's real ice.
Ellis Brigham Mountain Sports, Tower House, 10-12 Southampton St, Covent Garden, London WC2E 7HA, 0207 395 1010, vertical-chill.com
50. Find a fine vintage at The Wine Tasting Shop
You can't go wrong with a good ol' fashioned wine tasting, and The Wine Tasting Shop offers a stellar cheese board too.
The Wine Tasting Shop, 18 Hildreth Street, Balham, London SW12 9RQ, 020 8616 8658, thewinetastingshop.co.uk