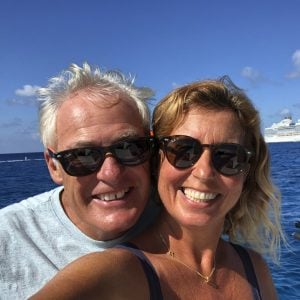 Carla & Simon
Berkshire, UK
Married January 4, 2017
Carla and I matched on eharmony in 2015, but after we met for the first time, we didn't see each other again for a while. A couple of months later I sent Carla a text asking her out for a second date. Carla was on a stopover in New York, on her way to the Dominican Republic with her two girls. Luckily Carla switched her phone on to roaming, and "ping" my text came in.
We met two weeks later at Baker Street tube station, on a rare sweltering hot London evening. Over a glass of red wine, had by the roadside outside a pub, we chatted away and decided to give the relationship a go for a few weeks to see how we got along. We never missed a weekend, and eighteen months later we were married on a beach in Barbados, with our four children there to witness the event.
Two days later, as we were lying on a sunbed soaking up the Caribbean sun, Carla asked if we should "sell the house, buy a boat and go sailing". I thought about this for all of two seconds and answered "yes". The plot was written, all thanks to eharmony.
@sailingoceanfox