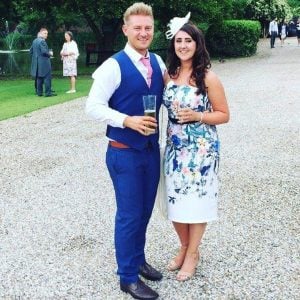 Chandra & Danny
Leeds, UK
Married September 3, 2016
I was watching England play football at home and got a message from Danny saying 'hi'. I thought I'd cancelled my eharmony subscription but hadn't done it properly. I'm so glad now, because if I had, we would have never met.
We chatted online for two weeks before meeting for our first date. We met in Sheffield, Danny travelling from Derby while I headed in from Lincolnshire. We played mini-golf – Danny didn't let me win and hasn't done since; we then had a few drinks before heading home. There's an age difference of five and a half years – Danny was 22 and I was 28 at the time. Because of this, I didn't think he would be interested in settling down, but I was wrong and knew something was different from the moment we met.
We are two peas in a pod. We're both chilled and laid back and don't have big arguments. We also have strengths in different areas, so complement each other. He also cooks, which is great, because I hate cooking! Our first milestone moment was getting engaged at Niagara Falls. It was amazing and such a surprise. Unfortunately, following a miscarriage in 2018 we struggled with infertility. After three and a half years, we underwent IVF to have our daughter Florence; now we are also due a little boy. It was a natural pregnancy, so he has been our little Christmas surprise!