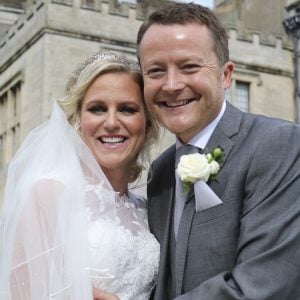 Claire & Jonathan
Northamptonshire, UK
Married September 16, 2016
We were originally matched in 2014, but fate didn't take it any further. Jonathan had lost his first wife, Claire, to cancer – and I was having a tough time with various things, so we passed each other without realising. We then matched again, which started with a wink, then a message, a long chat on the phone and straight into our first date. It was most definitely a whirlwind.
Our first date was the most magical date ever! We met in the Fox & Hounds pub in Harlestone. We chatted non-stop and found out that our birthdays are a day apart. The more we chatted, the more we found out that we were the same: our personalities, our emotions, everything! We kissed in the garden and that was the beginning of the rest of our lives together.
We complement each other perfectly. Both Cancerians – we are loyal, protective, caring and overly sensitive. We love the same things, including dates together, gardening, animals, and adventure. We can't thank eharmony enough for matching us.