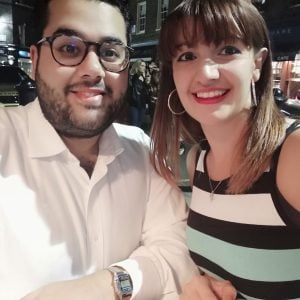 Leyla & Shimol
Kent, UK
Matched October 7, 2017
We were both unsure that we would find anyone, Shimol was in the last week of his subscription – he'd even been on the TV show First Dates to find someone! I looked at his profile a few times and was unsure, but thought he was interesting and funny, as he hadn't answered all the questions too seriously. I could tell he'd be fun to be around, so sent him a wink and he replied. We exchanged numbers a week later, then went on our first date. We've been together ever since.
Shimol organised our first date, and as I was doing a year without alcohol, he had to find somewhere a bit different to take me. We had such great fun chatting and ending up walking around London before he walked me back to the station.
Our first milestone was taking a holiday to India to meet Shimol's extended family, and to go to an Indian wedding. This was our first holiday together as a couple and was a test of how we could work together – we were still living separately at the time. Another milestone was moving in together, which happened just before the second lockdown as Shimol got covid and was in the ICU. I was unable to contact him, and it was a hard time after going through the stress of covid. We both knew it was the right time to move in together and are now looking to get engaged soon.
I feel we are well matched. We might be interested in different things, but our core values are the same and we make a good team. We know communication is key. We are both also big family people, and both fit into one another's families well.