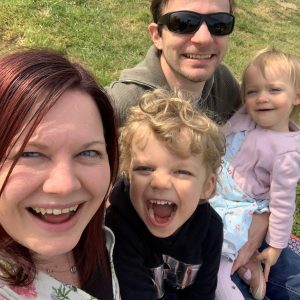 Lindsay & Andy
Warwickshire, UK
Married February 7, 2015
Andy popped up on my list of suggestions with a range of cute, quirky photos and a profile that made me giggle. Once we connected, we chatted for a couple of weeks getting to know one another. We were about an hour and a half away from each other, on different sides of London. He asked if I wanted to go on a date and we decided to meet – agreeing to meet at Kensington Gardens and go for a walk. The night before, Andy messaged saying to watch out for mutant zombie badgers – I thought he's either going to have a good sense of humour or this is going to be a terrible date! In the end, we had a lovely time and decided to go for lunch together as well.
We both have similar family values and outlooks on life, as well as a love of food and travel. We're also open to new things and have been able to grow together in our relationship. Some things just felt like fate – each of our closest friends even live around the corner from each other in Bristol.
On our second anniversary of meeting, we travelled to St Lucia for a holiday and Andy somehow managed to drag me out of bed early enough to propose on the beach at sunrise. It was a beautiful proposal and I said yes straight away. We were married in February of 2015 at Bisham Abbey near the house we'd bought together in Amersham. It was cold but gloriously sunny and we had an amazing time with all our friends and family – dancing the night away. In 2016 we were blessed with a son, Xander, who turned our world upside down – but brought us so much fun and joy. On Valentine's Day 2019, our family was complete with the arrival of our daughter Sylvia, who at two-years-old, is already a beautiful and determined little woman. We couldn't thank eharmony enough for matching us.