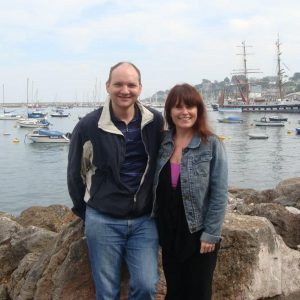 Sarah & Graham
Surrey, UK
Engaged January 2, 2016
We matched on eharmony in January 2010, and we decided to meet for a coffee first to see how we got on. We clicked straight away and had such a laugh. We texted a plan to meet up later in the evening for dinner, then had a day out together the following day – we've been inseparable since.
Being able to list all the things you wanted or didn't want in a relationship on eharmony really helped. Neither of us wanted more children, so being matched on that basis was particularly important. We both enjoyed the same interests but were also open to being introduced to new experiences that the other person enjoyed. This has led to many amazing holidays all over the world, activity days and our biggest passion for wildlife and animals. We also dislike the same things, which is a bonus.
Our first major commitment after moving in together was to get two gorgeous female cats from Cats Protection, who are our world. We felt comfortable with each other right from the start, and as you get older, you realise what's important and what isn't. It's so lovely to have met someone who shares the same values – we plan our future and can be open with each other and feel so relaxed. We just love it being the two of us (well, four with the fur babies)!