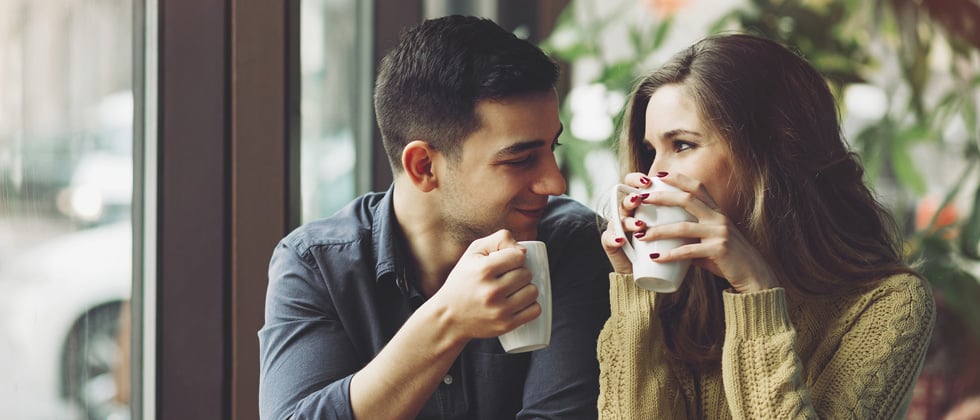 First Date Ideas to Make a Lasting Impression
So you've been on eharmony for a little bit and now you've found someone you really think you'd hit it off with. You make each other laugh and you relish the spare time you have to message them. And now you both think it's time to see if the sparks also fly in real life.
But where do you take them for the first date? Let us help, we've put together our top list of first date ideas designed especially to make your first real-life meeting an event to remember. Then there's also the first date nerves to consider, how to act, and what to do after the date. Well, we have you covered there too. Check out our other first date guides.
Cute first date ideas
When looking at what to do on a first date, cute first dates are for those who enjoy the romantic side of dating and making it a cute event, right off the bat. It can be risky to go romantic at first if you don't end up getting along, as they tend to be very one-on-one, but if the person shares your sentiments for first date ideas, it's sure to be a hit you can both enjoy while getting to know each other.
So here are some of our top cute first date ideas.
Play around at a bookstore – If you're both into literature or just browsing through all the genres and making fun of some of the passages you find, this can be more entertaining than expected. Try to make a game out of the date, like deciding for each other the next book you'll be reading and buying it for them. Luckily bookstores don't share those stuffy library strict silence rules.
Watch the sunset together – While you can do this anywhere, to make this a cute first date, you're going to want to go for a breathtaking background, just to make the sunset a bit more majestic. Many cities have lookout points designed for exactly this or you could do some research and find a scenic vantage point that's less busy. Bring a simple picnic and maybe a snack and/or beverage to really tie the date up nicely.
Explore a farmer's market – In terms of first date ideas, these are great for a morning date that still provides a vibrant atmosphere. Enjoy the local goods, find some foods you both have in common or just explore the food stands. As a cute activity, you could try ordering for each other to see if you can guess each other's tastes or get a little shared memento of the occasion at one of the craft stands often at farmer's markets.
Splash on the fancy dinner scene – In this era of more casual dates we often wonder, is dinner a good first date idea still? But many singles are still into a good old-fashioned romantic dinner and a bottle of wine to get to know each other. It's a classic for a reason and immediately conveys your interest in the other person more than a quick cup of coffee ever could.
Sip wine and go painting – Paint and sip events are always a hit. They provide a fun, casual, pressure-free environment to explore your creative side while not taking it too seriously. Just enjoy some merlot and try painting each other's portraits to get a cute insight into how you see each other and the features you both choose to focus on. Now let's take it in a different direction.
Fun first date ideas
Fun dates are kind of like cute dates, but just with an increased emphasis on just having a good time, laughing together and seeing whether you can find some compatibility through each other's more quirky sides. After all, if you can make each other laugh with your shared sense of humor, you're already halfway there.
Here are some fun first date ideas:
Have a picnic in the park with board games is a great option for a day date idea – It's time to dust off your Scrabble and Candyland sets and put them to good use: setting up a fun date. This is great because it's not a very formal date, yet it still gives a great opportunity to see what kind of things you have in common while enjoying your shared nostalgia.
Visit an escape room – It doesn't get more one-on-one than being locked in a room together and having to escape. You can also join a group session for a less intense teamwork-based introduction. Despite their odd premise, escape rooms can be a really good space to bond and see if you think similarly. And whoever figures it out first gets to buy the tacos.
Take in a sports game – If you're both fans of the same teams, just rooting together from the sidelines can be a bonding experience in and of itself. Just make sure you have some smaller things to do on a first date so that not all of your conversation was cheering, like getting a pastry before the game or getting some ice cream together after.
Book a private karaoke room – Karaoke is the ideal way to break some barriers and get past those first date nerves. How can you feel shy in front of someone after you just poorly belted out some Fleetwood Mac in front of them? Typically, in a Korean theme, these venues also offer a great range of bar foods and exotic cocktails when your vocal cords start to take some strain and you want to have a more personal chat.
Go see a live comedy show – in terms of first date ideas, comedy shows take a bit of the pressure off of you being the sole source of entertainment while also setting a positive, lighthearted tone for the evening. Having similar senses of humor also bodes well for your connection. Go grab a drink at a nearby bar to cap off the evening.
Looking for something a little more on the go? We've got good ideas on that too.
Active first date ideas
Do you find the idea of being stuck across from each other at a cafe table or grabbing a drink at a bar a little bit boring? Or maybe you just don't like sitting still for too long and like getting to know people on the move. If you're stuck on the question of where should we go on a first date, and you're a more active, outdoorsy person, an active date is the perfect solution. If you're both into the same activities, it can also be a good opportunity to check out each other's competitive side and bond over that.
Here are some active first date ideas:
Take a hike together – Get those endorphins pumping and the conversation going with a hike to a scenic destination. These are ideal for casual first dates that can branch out into other activities. Remember, this is a first date so maybe don't pick a tough, arduous trail but rather one that still lets you get to know each other and enjoy the sights without getting too strained.
Go skating – Whether it's on ice or four wheels on some hardboard, skating is one of those classic first date ideas for a reason. It gives you a lot of time to have a conversation while still keeping your blood pumping. And nothing lends itself better to some hand-holding and flirty glances like skating. Share a pretzel at the concession stand when you both decide it's time to take a break.
Try a new sport or activity – This can be fun and engaging because it puts you both on an even keel competitively and lets you bond as you learn the sport together. It can be something as simple as some axe throwing over some craft beers, a little bit more extreme like some indoor mountain climbing or just indulging your inner child together at a trampoline park.
Take a bike ride together – You need to make sure you have similar fitness levels before you take this option or it can turn into a brutal slog, but riding a bike together through the city, taking in the magnificent vistas and stopping at each other's favorite sights in the city can help you first date stand apart from other one's your partner has had and bring about an authentic sense of intimacy.
Try out a dance class – As first date ideas go, this one can be slightly risky, particularly if you're not rhythmically gifted. But awkwardness and some shared pratfalls as you both ease your way into it more than compensates for any gaps in either of your techniques. What's important on active dates isn't endurance or skill in sports but rather exploring your active side and seeing if you both can bond and have a good time while getting better at them.
Set the perfect tone for all your following interactions
When looking at what are good ideas for a first date, the best path to follow is a date that you know you can both enjoy. It's not about showing your date something new but creating an event in which you can both explore the potential of your connection and whether you want a second date while getting to explore something warmly familiar or novel. But always make sure it's something you'd both be into and not just you showing off. And don't be afraid to try different first date ideas along your dating journey. Because finding the right person is all about the journey.
At eharmony, we make the pathway on that journey a bit clearer by only connecting you with psychologically compatible singles who share your dating goals of finding a genuine, lasting connection built on your shared personality and interests. So come explore your dating potential today on eharmony.
How it works
Your search for a great relationship has never been easier with groundbreaking overhaul of the eharmony you know and trust.