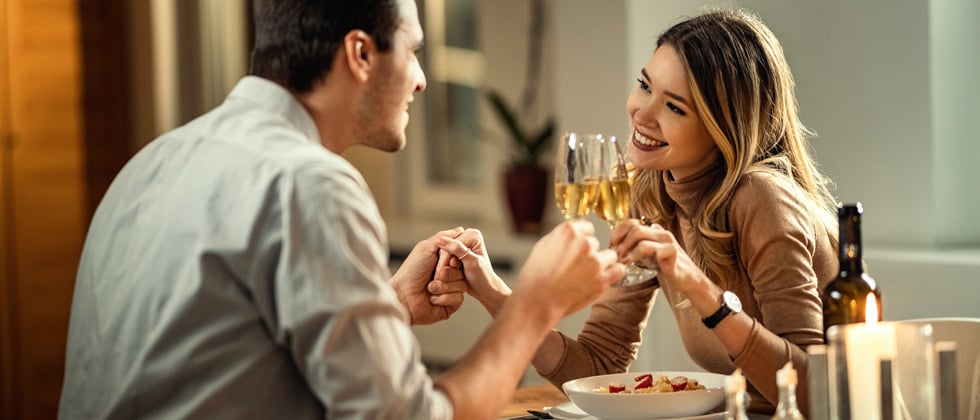 The top first date tips for making it work
If you met online or don't know each other very well, first dates are always exciting. Sometimes they even feel like a job interview– but they don't have to be that way! Let's look at some first date tips that can kick things off on the right note and help ensure a successful dating journey. And of course, there are also some first date tips for women and men you need to know. It's important to remember that a first date going well is not just about what you do during the date. So we've organised these tips into three timelines to consider when looking at your first date: before, during and after.
Preparing for the date
Those who fail to prepare, prepare to fail. Here are some first date tips you can take care of before the time, to help make sure events go as smoothly as possible. in addition, preparation takes away the nerves before the date.
Picking the right outfit
The most stressful decision is often your first date outfit. What you wear should depend on the type of date:
Casual – It's best to go for a more relaxed but stylish look, like jeans, shoes or smart trainers and a neutral shirt, for men
Romantic – The key here is to dress to impress without being too flash. Women should go for something chic yet elegant, like a simple evening dress, and tastefully subtle makeup
Outdoor – Wear something relaxed yet fashion-conscious to put across a good impression
What's important is that you put in an effort, that it fits well and doesn't look tatty while still expressing your general style.
Think of what you're going to do
Make first impressions count by ensuring you've properly planned the day. Good first date ideas should give you a chance to talk, be creative, feel safe for the other party and not be too out of the way. Choosing the right date idea is probably one of the most important first date tips.
For a casual date, try exploring a local art gallery or browsing a craft market. For something more adventurous, you could try an extreme sport or just act like a tourist in your own city.
Home dates
Dates at your home are for when you're ready to move things to the next level. It's important to first make sure they're comfortable with the idea and that there are no expectations placed on the evening. If you are asking yourself about what to do on a first date at home keep the date simple, cook something you're familiar with and make sure you handle everything ahead of time. Lastly, make sure your place is neat and comfortable to be in. As a woman, if you're not comfortable with that yet, you can always instead opt for a video date to keep things intimate but still feel safe.
The date itself
The day has arrived and now it's time to make sure everything goes off without a hitch. Here are some first date tips to help it along.
Add some life to first date conversation
You may have swapped messages online but seeing someone in the flesh for the first time can sometimes lead to shyness. Our tip when it comes to perfect first date questions: Skip their profession and rather ask about their ideal holiday or favourite film. It's a good entry point for a perfect first date conversation into other aspects of their life without coming across as overly familiar. The important thing is that the other person feels you're engaged with what they're saying and are truly interested in getting to know them.
Dealing with nerves
First date nerves are perfectly understandable. One of the most important first date tips is not to emotionally over-invest in it. Don't think of it as a make-or-break interview where sparks immediately have to fly. Rather go in with an open mind. Remember, this person wants to meet you, so the best thing to be is just yourself.
What to avoid – first date tips for women and men
Besides tips that promise a successful date, there are also things you should rather not do. Here are a few things to avoid on your first date:
Men: never bring up the subject of sex. Just don't
Don't be a slob. This means being hygienic, having good manners and dressing neatly
Don't make the date all about you. Remember to ask questions. A date is a mutual exchange
For women, avoid bringing up marriage or family on the first date. Romance is all about a comfortable pace
What to do after the date
So, your date is over, you enjoyed yourself and you want to see them again. But how do they feel? How do you approach them? No problem. Here are some handy post-first date tips.
Gauging how well it went
First things first, ask yourself these questions afterwards to establish the signs of a good first date:
Did you feel more comfortable with them by the end of the date?
Did you make each other laugh?
Did it feel like you were both present?
Did you break down certain conversational barriers, like discussing family or passions?
Did it feel like you had enough in common?
If you answered yes to most of these then there's a good chance a second date may be in the offing.
Getting in contact afterwards
Even if the date went really well and you like them, there is a chance of spoiling it afterwards. If you felt an intense connection you might be tempted to text a lot right away and add all their socials. You may feel like your relationship is in a different place than it is. But don't play mind games with them either. The best approach is a direct but respectful one.
Dealing with being ghosted
It wouldn't be a proper list of first date tips if we didn't also discuss getting ghosted by the other person after you really enjoyed the date. Often worse than rejection, ghosting is a complete communication blackout.
Interestingly, women are more likely to ghost than men. It's important not to take it personally though. People can sometimes ghost you because they liked the date too much and are unprepared for what comes next. Often, it's due to a lack of emotional maturity on their part or a degree of insincerity, which you don't want in your life anyway.
First date tips designed to set the right tone
So that's our breakdown of your next potential first date. Whether it marks the beginning of an epic romantic story or you just get ghosted, the important thing is you put yourself out there and that you remember the right person for you is out there. If you're having a problem getting that first date or just want to go on more successful first dates, why not join us at eharmony? Our Compatibility Matching System and commitment to our members have already helped over 2 million people find love. Let us help you find it too.
How it works
Your search for a great relationship has never been easier with groundbreaking overhaul of the eharmony you know and trust.