How smart tech will transform dating
A Report by eharmony.co.uk and Imperial College Business School
From counting your steps on your smart watch to turning the heating on before you get home through the app on your phone, smart tech is already beginning to transform the way we live our lives. But, as technology starts to take an even greater hold over us all, just how will it change our dating lives?
Just five years ago, it was virtually unthinkable that you'd be able to use your mobile phone to get a date but today, swiping culture is ubiquitous and you can meet potential partners in an instant, without even leaving the house. Imagine how much the digital dating landscape will change in the next ten or twenty tears as smart tech continues to evolve and become integral to everyday life.
To investigate exactly how the future of dating will be transformed at the touch of the button, we enlisted the help of experts from Imperial College London. Here's what we discovered…
About the Report
Metholody: Compiled by MSc Management students at Imperial College Business School, the Future of Dating report postulates on what the impact of smart technology and the 'smart home' will have over the next few decades when an increased number of devices come to market. The report is based on extensive literature reviews, detailed analysis and extrapolation of historic data and interviews with industry experts. Input was received from: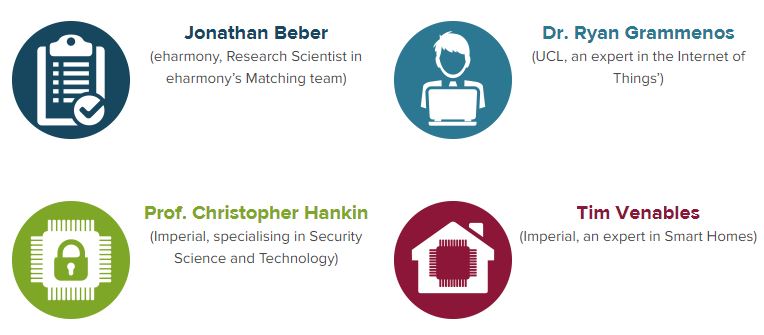 About eharmony
eharmony launched in the UK in 2007 with a clear vision: to create more lasting love in the world. The science based relationship site is committed to helping singles find the best possible partner via its unique Compatibility Matching System®. Prior to launch, the brand invested in further extensive research into love and relationships, conducted in partnership with Oxford Internet Institute at Oxford University, to develop UK specific compatibility models. Today eharmony, fondly known as 'the brains behind the butterflies', proudly serves over 67.3 million members globally, with more than 4.5m UK members. Find out more at here.
About Imperial College London
Imperial College London is one of the world's leading universities. The College's 14,000 students and 7,500 staff are expanding the frontiers of knowledge in science, medicine, engineering and business, and translating their discoveries into benefits for society.
Founded in 1907, Imperial builds on a distinguished past – having pioneered penicillin, holography and fibre optics – to shape the future. Imperial researchers work across disciplines to improve global health, tackle climate change, develop sustainable energy technology and address security challenges. This blend of academic excellence and its real-world application feeds into Imperial's exceptional learning environment, where students participate in research to push the limits of their degrees.
Imperial nurtures a dynamic enterprise culture, where collaborations with industrial, healthcare and international partners are the norm. In 2007, Imperial College London and Imperial College Healthcare NHS Trust formed the UK's first Academic Health Science Centre. This unique partnership aims to improve the quality of life of patients and populations by taking new discoveries and translating them into new therapies as quickly as possible. www.imperial.ac.uk
Foreward
In 2014 we released our first groundbreaking Future of Dating study in partnership with Imperial College Business School. This predicted that by 2040 up to 70% of couples would get together online, with technology revolutionising the way we find love and build our relationships.
Our second report (2015) examined a range of possibilities that the future may bring, from full-sensory immersive virtual dating to the role DNA might play in compatibility matching.
I hope you agree that combining the skills and knowledge of some of the world's most talented students with our own experts in matching and compatibility makes compelling reading.
Just as the Internet revolutionised the way people meet and interact with each other decades ago, further advances in technology will bring ever-greater changes in how we meet potential partners.
For the 2016 report, we wanted to dive further into what 'everyday' smart technology is on the horizon, what data these new devices will provide, and how this will help singles in their pursuit of love. The data provided by smart technology will crucially help to remove the gap between who you think you are, and who you actually are, leading to far more rewarding romantic choices.
Specifically, we've tried to understand how such data could be used to provide accurate insight into people's personality traits, helping us to understand even further what makes them truly compatible. It may sound strange at first, but it's very likely that in a few years the settings on a smart toaster or the food in your smart fridge could tell you more about yourself than many other forms of self-assessment.
Interestingly, as the technology advances, we as human beings stay the same and who we're best suited to remains the same. eharmony.co.uk connects members using several key dimensions of compatibility – factoring in their beliefs, core values and key personality traits. This creates better matches and as a result, meaningful relationships that will stand the test of time.
The challenge for us in the future will be to understand how all this new data provided by the 'Internet of Things' relates to what scientists now call Deeper Learning, helping us to better understand the behaviour of people and how this relates to attraction.
From wearable tech right through to 'smart homes', Imperial College students estimate that by 2036 more than 12 million UK adults will be matched to a compatible partner using the data that smart tech will record.
It's encouraging for us to see that what started with online matching will continue to evolve and sharpen, making use of the array of possibilities that the 'smart era' has to offer.
Romain Bertrand UK Country Manager, eharmony.co.uk
October 2016
Introduction
This report is a collaboration between relationship experts eharmony.co.uk and Imperial College Business School. It has been compiled by MSc Management students from extensive literature reviews, detailed analysis and extrapolation of more than 100 years of data. These finding are supported by interviews with experts in the fields of anthropology, sociology, technology and biomedicine. The aim is to answer the following question:
What role will the 'Internet of Things' have on our intimate relationships over the next 20 years?
The findings have focused on the potential for the smart tech industry, its advancement in the coming years and the data that such appliances will record and process. This study builds on last year's report, which mapped the possibilities that the technology of tomorrow could bring in terms of connecting with others and leveraging the advancements in artificial intelligence.
Ultimately, the wealth of data delivered by the 'Internet of Things' will mean we have much more data on our daily behaviour, and this information will be far more objective than the common methods of personality self-assessment we have today, removing subconscious bias. Machines will essentially open doors to a better understanding of ourselves.
The report has been divided into the following three sections:
WEARABLE TECH AND TODAY'S SMART TECH POSSIBILITIES:
An assessment of the current smart tech ecosystem. The world is already a smart place, with an array of technology creating and recording a wealth of valuable data. Here we look at what data is recorded and how it might reflect on the user's personality.
THE POTENTIAL OF THE 'SMART HOME':
As our homes become more networked and include a greater number of smart devices, your home could ultimately know you better than you know yourself. We investigate the various devices within the smart home and what the data they collect can tell us.
THE ARRIVAL OF THE 'SMART ERA' AND THE RISE IN 'SMART DATING' AND RELATIONSHIPS:
Just when will smart tech be as ubiquitous as the mobile phone is today and what will this mean for the rise in 'smart dating'?
1. Wearable tech and today's smart tech possibilities
Students at Imperial College estimate that by 2026, four million relationships will have been created in the UK by matching through smart technology and this will grow to 12 million by 2036. But how can smart tech help us make better and deeper connections?
Wearable technology has boomed over the last few years, with the emergence of smart watches, smart glasses and health wearables such as 'Fitbits', which monitor calories burned, heart rate and sleep patterns among other measurables. Products like stress monitors, smart footwear, smart lenses, and smart clothing are either already available on the market or are due to appear in the coming years. In fact, technology experts at Gartner estimate that there are 6.4 billion connected devices worldwide and this will grow to over 20 billion by 2020.
All of these technologies are also improving, with each new generation recording more data and offering a greater number of features.
The range of data that they record is near limitless. In terms of how this might tell us about ourselves, the below table is a summary compiled by Imperial using eharmony's insight into the science of compatibility:
Table 1: Wearable tech and its relevance to smart dating and relationships eharmony is a science-based relationship site committed to helping singles find the best possible partner based on several key dimensions of compatibility. Here we look at how the data recorded by the next wave in wearable tech could help us mine even deeper analysis via our Compatibility Matching System (CMS).
Together, this data paints a fascinating picture of who people really are, in terms of their interests, behaviour and preferences. However, some extracts of this information are more valuable than others when it comes to finding people a compatible partner, and as such can be grouped into seven distinct categories as outlined in the chart below.
'Primary' data sources will provide significant insight, 'secondary' sources will be useful but limited, and 'tertiary' data sources will be more than likely used in conjunction with other data sources to provide insight.
2. The potential of the 'smart home'
While wearable tech and smart phones are on the increase, there's the potential for even greater insight into our personalities and behaviours from the 'smart home' – the network of connected and smart appliances around our homes.
Table 2: Smart devices in the home and what they can measure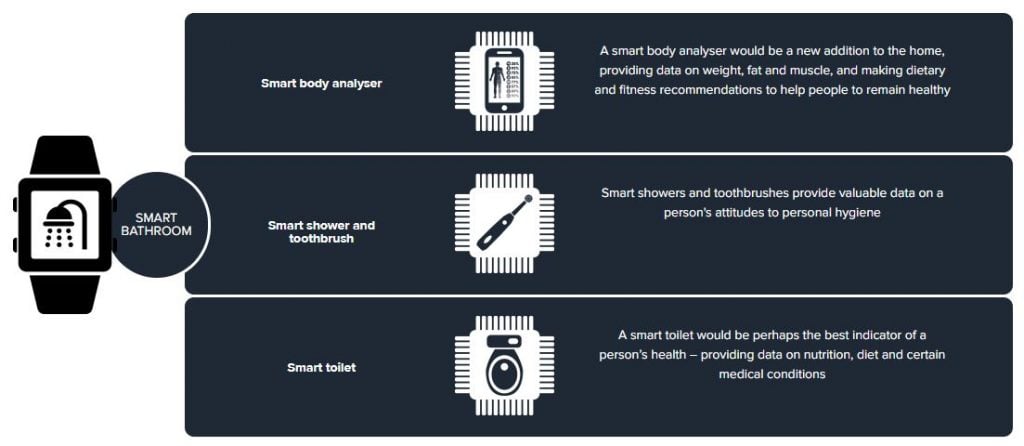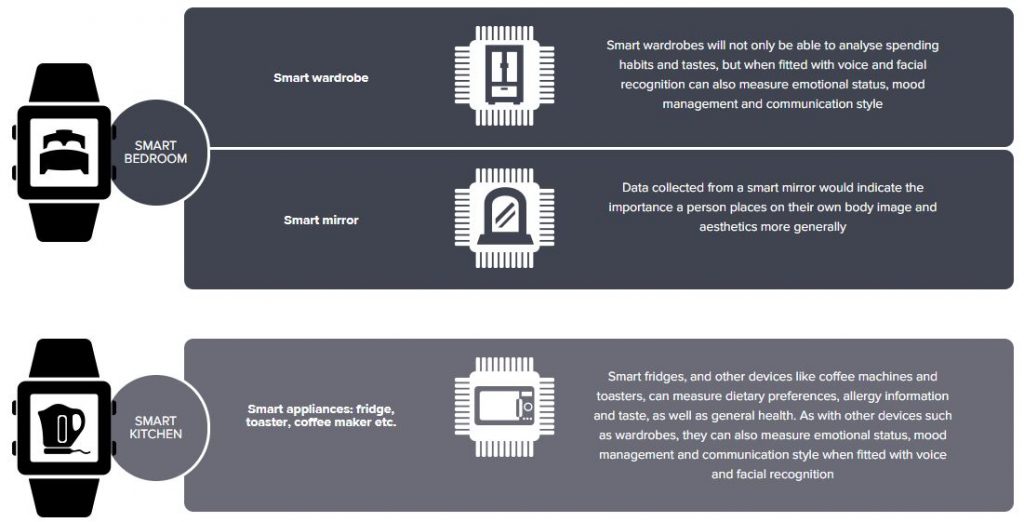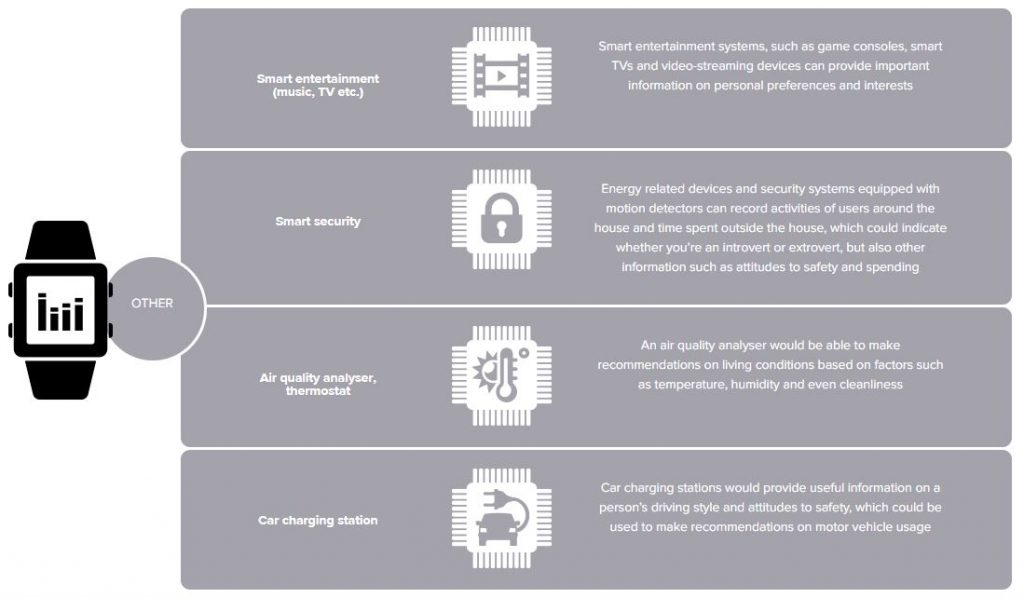 Once again working with Imperial, we mapped the range of existing and upcoming smart home appliances, studied the data they supply and outlined what this data could tell us. Vitally, this data would not be made public, and instead would inform an algorithm behind the scenes, helping find accurate romantic matches for people based on supplied factors they may not realise are important.
Table 3: List of smart devices, the personality traits and interests they will measure, and how this can be applied to relationship compatibility
Just as our experts did with wearable tech, the data and its relation to love and relationships was condensed down into five key categories, displayed below in order of importance:
3. The arrival of the 'smart era' and 'smart dating'
The rise of smart dating (in US and UK)
Based on existing field data, it's estimated that:
40% of online dating services will have incorporated smart tech by 2026
90% of online dating services will have incorporated smart tech by 2036
30% of relationships will start by online dating by 2026
40% of relationships will start by online dating by 2036
Population growth rate of 1%
Therefore, we estimate 18m relationships and 4m relationships to be created by smart tech in 2026 in US and UK respectively, which will increase to 59m and 12m in 2036.
Conclusion
The massive range of data recorded by smart appliances will provide a real boon to the way that we understand ourselves and therefore are able to be romantically matched efectively with others. Today, we rely on self-assessment, which gets us so far but ultimately has limitations because of natural human bias or second-guessing what a survey question might say about them.
The use of smart data will alleviate this problem, providing objective and unadulterated information. We'll be able to use this data to make the online dating process much easier in every stage; application and profile building could be instantaneous, matching far more accurate, and the data on the two people's compatibility could even be used to suggest great locations for shared experiences or mutually-compelling topics of conversation.
Yet when it comes to matters of the heart, we have to be realistic. No matter how much data we have, ultimately it will be down to a face-to-face meeting to see if there are 'butterflies' or not. We're not saying the data will make you instantly fall in love, but it will make the process easier. What's more, by removing self-assessment, matching will be far more accurate and honest. The truth is that it's hard to be truly objective about ourselves – smart data will bridge the gap.
Furthermore, as we seek to deepen the smart data being mined by eharmony's compatibility matching algorithm (CMS) in the coming years, it will be fascinating to observe the extent to which it can deliver yet more accuracy. We already know that 80 per cent of eharmony relationships become long-term* and we are excited about the even greater potential on the horizon in the next decade and beyond.
While we believe the likes of music preferences or purchases will be key to reflecting a deeper knowledge of the user personality – more superficial measures, such as how you like your toast or how you brush your teeth, could actually carry more significance than previously anticipated.
The next twenty years will be enthralling and we look forward to revealing further insights in upcoming editions of the Future of Dating report.
*eharmony Marriage Claims Report (2015)