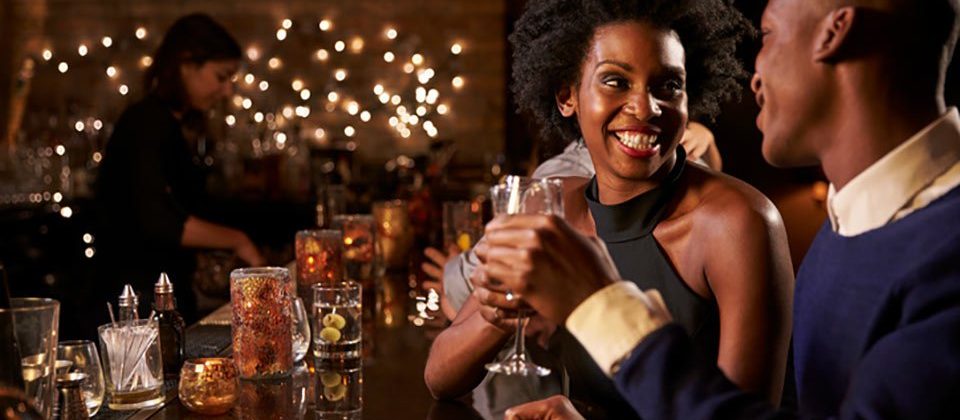 10 brilliant first date questions
First dates are a lot like job interviews, except the potential for reward is much higher. Which is why first date questions are so important: good first date questions are a way to connect with your date and figure out if he or she is interested. Asides from being a good way to get to know the other person better, a good first date conversation let you know if there's potential for a second date. That's why it's very important to know what kind of questions to ask on a first date. So, what are examples of first date questions that work?
1. I've been watching X. Any good films or TV shows?
With the proliferation of streaming services there's a fairly good chance this question will come in handy, especially if you're a TV buff. And if you're not, it's a great way to get recommendations.
Pro tip: watching a movie one or both of you hasn't seen is a great idea for a later date.
2. Is there any food you don't eat?
With many first dates at restaurants, this is a natural question to ask. It's also good to know, both for future date purposes and safety purposes; you wouldn't, for instance, take someone with a known shellfish allergy to a seafood restaurant.
Pro tip: Follow up by asking what the most memorable dish they've ever eaten was; you're guaranteed to hear some great stories.
3. What kind of holidays do you take?
Asking someone what their last holiday was is one of the most fraught first date questions even in non-pandemic times. Asking what they'd like to do, instead, gives you an insight into their personality. Are they the relax-on-the-beach type, or the explore-all-day type? Do they like to rough it or is it five star all the way? It might even give you ideas for future holidays together.
Pro tip: Asking about dream destinations or ideal holidays are great follow up first date questions!
4. Tell me about your family/friends
The more long-term or serious a relationship gets, the less it's just about that one person and more about the people they love as well. Asking about family and friends on the first date isn't just a great way to indicate that this isn't just a casual thing, it's also a great way to watch for dating red flags – in the way he talks about female friends or relatives, for instance, or how she only has stories that are filled with capital-D Drama.
Pro tip: Finding out about their relationships with family and friends will give you insight on how a relationship with you might work, and is one of the best questions to ask on a first date.
5. What are your relationship deal-breakers?
While this might seem like a harsh question, it's important – especially if you're looking for a long-term relationship. If one of you wants kids and other doesn't or one loves the nomadic lifestyle and the other can't wait to put down roots, it's best it comes up in a first date conversation rather than an argument years down the line.
Pro tip: Think about what your dealbreakers are, whether kids, living conditions, or politics, and you'll be better to answer this question when it's your turn.
6. Is there something you've always wanted to learn?
You never know what hidden depths your date might have. Maybe he is secretly fascinated by ancient Egypt or she would love to know more about marine biology. Asking about learning in first date questions not only demonstrates intellectual curiosity, you might just discover a shared passion.
Pro tip: Deepen the conversation with a question about their favorite subject in school or a teacher they either loved or hated.
7. Do you have any odd talents?
This one is a little off-the-wall, but that's the point. People are unique, and you never know what charming talent – writing backwards, cutting onions without crying (jealous!) or playing the piano upside down – your date might have.
Pro tip: Asking if there's something your date is proud of is a great complement to this question.
8. 'Would you rather…'
This old standby is a classic for a reason. It's a great way to assuage your curiosity and a fun conversational rabbit hole to fall into. Examples: Would you rather have many casual friends, or a few close ones? Would you rather live in a shepherd's hut in the Hebrides or an apartment in London? Would you rather have a fast car or a fast internet connection?
Pro tip: Other classic games like 'Never Have I Ever' also work great for first date questions. You never know what you might find out.
9. What accomplishment are you most proud of?
With first date questions you want to keep the conversation light and asking about someone's past can sometimes lead to them revealing all sorts of unhappy or painful things. Frame questions about the past with a positive spin. There will be time for deep, meaningful revelations later.
10. Would you like to meet again?
If you don't ask, you won't know, and if you are the sort of person who can't bear to be left wondering it might be better to come right out and say it. Listening is just as much part of the art of conversation as talking so make sure you practise that too. Be prepared to answer any first date questions you use yourself as the chances are they will be turned back to you.
What not to ask on your first date
Just as there are good questions to ask on a first date, there are some topics you should avoid. For example, questions that are too personal or simply asked too early. A non-exhaustive list of first date topics that are better not broached at all:
Why did your last relationship end?
Do you always eat/drink this much?
Anything about sex
How much they earn, or if they own their own house
Tell me about yourself
Always be prepared, it's important for a good first date
While eharmony's unique Compatibility Matching System does a lot of the work when it comes to finding someone to connect with, actually doing so is in your hands. First date questions can make or break the night and, by extension, decide whether the relationship is worth pursuing. So, after you've let eharmony find you someone special for your first date, be sure to come prepared and you'll be that much closer to your second date.
How it works
Your search for a great relationship has never been easier with groundbreaking overhaul of the eharmony you know and trust.